Take Action!
Main Content

Hello Saluki Green Action Team - SGATs!  
Welcome back to campus, SGATs! It's officially the first week of classes and the start of another great Fall semester. To all our new members, welcome to the SGAT family. We are like-minded students, staff, faculty, and community members, dedicated to promoting sustainability around us.  
 
Through our own actions (either directly or indirectly), we aim to educate, inform, and encourage others around us to be conscious about their actions as well, in order to ensure the best environmental, economic and social impact. One of the simplest actions we encourage, is the use of reusable bottles, in lieu of single-use plastic bottles. These plastics have dire consequences for our planet.   
Did you know:   
The U.S. is the second largest consumer market for bottled water in the world, after China.

Americans purchase about 50 billion water bottles per year,

averaging about 13 bottles per month

for every person in the U.S.! That means by using a reusable water bottle, you could save an average of 156 plastic bottles annually.

 

A substantial percentage of single-use plastics do not either get recycled or

end up in the landfill? About 32% of the annual 78 million

tons of plastic packaging produced in the U.S. end up in the ocean! This is similar to pouring one garbage truck full of plastic into the ocean every minute. This is according to a recent study carried out by the

Earth Day Network

. Choosing to use refillable bottles can significantly reduce this. 

 

 

In our effort to be more sustainable, our campus has over 30 water refill stations all over campus. T

hese water stations are used to encourage our Saluki community to use refillable bottles and limit the use of single-use plastic bottles. Some of the stations have been

funded by the

Green Fund

.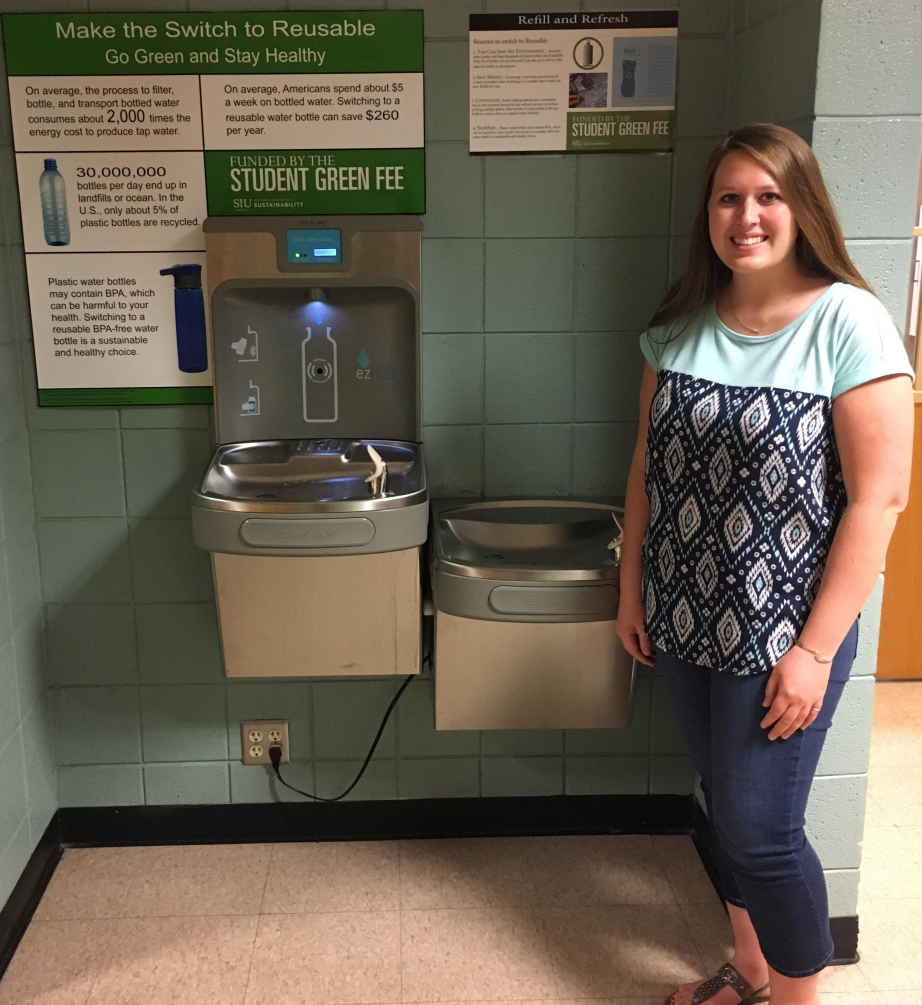 Photo Caption: Energy scholar, Tanna Gillespie, stands near the new water bottle refill station, located in the Engineering Building (1st Floor, Section E). Tanna authored the Green Fund proposal which funded the installation.
Take Action:  
Fill your reusable water bottle at one of the many water refill stations around campus

: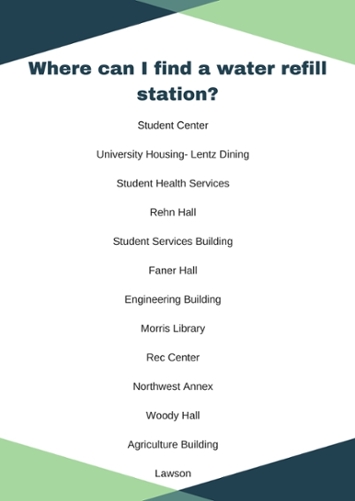 Get involved in campus activities and spread the word! Come to the Office of Student Engagement's

Involvement Fair

this Thursday, August 23, from 5 – 7 p.m. at the Faner Plaza. Over 180

Reg

istered Student Organizations (RSOs) and about 15 community organizations seeking volunteers will be in attendance.

Bring your reusable bottle

; the Water Dawg will be on standby!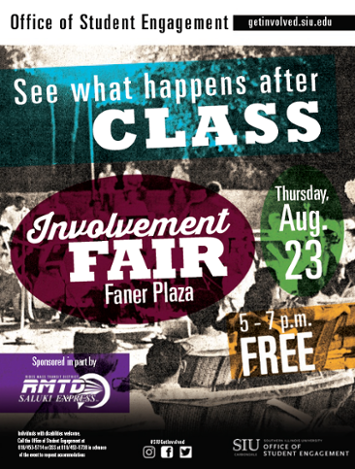 New Student Programs, with ample support from across campus, has graciously orchestrated a series of events to kick off the new year and we are excited that sustainability will play a role in several events.

For the full list of events look

here.

 
Win a Prize: Share our Facebook, Twitter, or Instagram posts for a chance to win this month's prize!  
Invite your friends to join the team, too. If they mention that you referred them when they sign up, you'll receive an extra entry in our next prize drawing. 
Keep up the great work,  
Saluki Green Action Team 
greenaction@siu.edu 
BECOME A SALUKI GREEN ACTION TEAM MEMBER