Take Action!
Main Content

Hello Saluki Green Action Team - SGATs!
We wrapped up the Earth Month celebration with a wonderful Sustainability Celebration last Friday and appreciate all who came to experience sustainability SIU style. Starting today, we begin National Bike Month. 
Did You Know: In the United States, the transportation sector alone accounted for nearly 30% of all greenhouse gas emissions in 2016? There are several ways we can help reduce this number. For instance, we can opt to carpool (which also helps save money), we can walk more often (and enjoy nature as well), or we can choose to ride our bikes more!
Take Action Now: This month's National Bike Month Celebration (see attached flyer) features several transportation events around campus and in town, designed with you in mind! Join in and take action to help reduce the emissions:
National Bike Month 2018 (See flyer below)
Tuesday, May 1
Bike Repair and Sale @ SIU Student
Center (North Side) - 11am-2pm
Don't let your bike sit on a rack and rust. Bring it to the Saluki Spokes Bike Repair Day. We will help oil chains, repair flats, and fix it up so you can sell it before you leave school. Want to buy a used bike? Stop by and see what we have. Call 618.453.5209 for more information or visit: SIU Bike Watch Facebook
Carbondale Group Ride - 5:30pm 
Kick off Bike Month with a group ride along the new downtown bikeway, around SIU, and back downtown. 
After the ride, check out local businesses for Bike Month kick-off specials! Meet in the City parking lot across the street from the Newell House.
---
Friday, May 4
Bike Ride to Murdale - 1:30pm
Join SIU Sustainability and Saluki Spokes for a group ride to Murdale Shopping Center! Meet at the south end of Student Center. This ride, which is open to all students, is intended to support students who are staying in Carbondale for the summer by offering tips on safely biking to off-campus locations.
---
Also, stop by the SIU Sustainability Hub (located in the Student Center near the bowling alley) to learn more about biking on SIU's campus! While there, enter a drawing to win bicycle mirrors.
Use this online tool to help calculate your carbon footprint and learn more about how to reduce it: Carbon Footprint Calculator.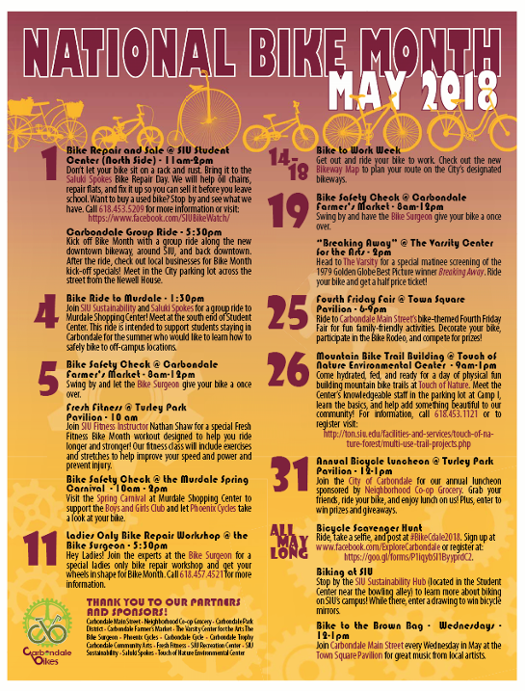 Sources:
https://www.epa.gov/greenvehicles/greenhouse-gas-emissions-typical-passenger-vehicle
https://www.epa.gov/ghgemissions/sources-greenhouse-gas-emissions
https://www.ucsusa.org/clean-vehicles/car-emissions-and-global-warming#.Wuc74WcwB4w
To Win a Prize: Share our post on our Facebook page or on Instagram/Twitter to be entered for a chance to win this month's prize!  Invite your friends to join the team, too. If they mention that you referred them when they sign up, you'll receive an extra entry in our next prize drawing.  
Keep up the great work,  
Saluki Green Action Team  
greenaction@siu.edu || @siugreenaction  
BECOME A SALUKI GREEN ACTION TEAM MEMBER