Take Action!
Main Content

Hello Saluki Green Action Team - SGATs!   
Recyclemania is coming to a close! Last week, SIU recycled and composted over 18,000 pounds of unwanted items and threw away 66,000 pounds of waste, giving us an average weekly diversion rate of 18%. 
Did you know: The type of plastic most single-use drinking bottles are made from is called PET or polyethylene terephthalate? This material is so durable that it can last for 500 years in a landfill or be recycled over and over again!  
Last week, we began following the journey of the plastic bottle – from blue bin to Southern Recycling. This week, let's see where that bottle goes next. 
After a buyer purchases a bale from Southern Recycling, your bottle may take a truck, train, or barge to its next stop at a recycling plant. Upon arrival, it will go on a conveyor belt, be sorted again, and washed. Then your bottle will be ground into flakes and sent to a manufacturer to be made into carpets, clothing or packaging. Plastics can be melted down to make new bottles again, but that is more difficult and rare because it has to meet food-grade standards. 
Take Action: Right now, a small percentage of bottles make it to the recycling plant. Give your bottle another life outside of the landfill. Divert today. Recycle!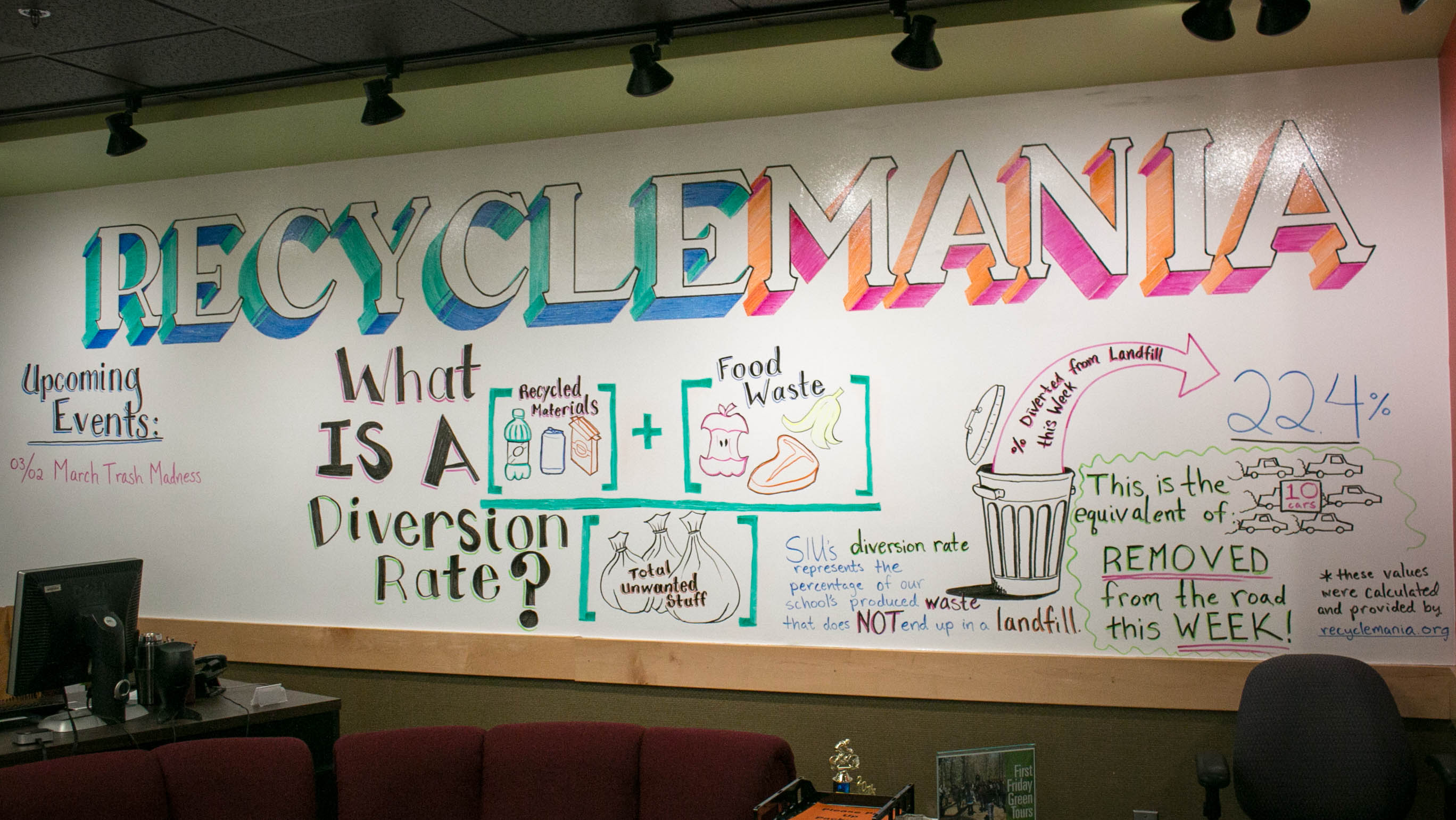 Sustainability Fellow, Jesse Galaway, created this graphic to help us understand exactly what we mean by the term diversion rate. Photo credit: Evelyn Aden, SGAT Member.

Sources: 
https://www.bloomberg.com/news/articles/2017-12-06/china-s-blow-to-recycling-boosts-u-s-s-185-billion-plastic-bet
; 
https://www.theatlantic.com/technology/archive/2015/12/what-actually-happens-to-a-recycled-plastic-bottle/418326/
; 
https://www.recycleyourplastics.org/consumers/kids-recycling/plastics-can-become/
Say goodbye to Recyclemania, Hello to Earth Month! 
Check out the full list of Earth Month activities at https://www.sustainability.siu.edu/earth-day.php  
WEEK 1
Thursday April 5 - Saluki Green Action Team at the Student Center, North Escalators, 1st floor
11 a.m. –2 p.m. 
Join the Saluki Green Action Team today! The Saluki Green Action Team encourages the SIU Community to take action and make an impact through sustainable actions and choices. 
Thursday April 5 - Spring 2018 Seminar Series 
Zoology, Cooperative Wildlife Research Laboratory, and the Center for Ecology
LSIII Auditorium at 4 p.m., refreshments at 3:30 p.m.
Jim Lovvorn, Zoology Department, Southern Illinois University
Title: Delineating critical habitats for eiders in a changing Arctic 
Thursday April 5 - Clay Flower Pot Workshop at the Student Center Craft Shop 
5 p.m.-6:30 p.m. 
Roll out the clay, hand-build a flower pot, whilst thinking about how spring showers bring May Flowers! 
Sign up at the craft shop or call 618-453-3636 to reserve a spot. Cost $6.00  
Friday April 6 - First Friday Green Tour at the Sustainability Hub 
Noon 
See the Green Fee in action! Visit Green Fund sites such as the solar powered picnic table and the green roof on the top of the Agriculture Building. 
Friday April 6 - Feed Your Neighbor 5k Fundraiser at Turley Park
Registration 4 p.m., Race at 6 p.m.
The Neighborhood Co-op sponsors an annual "Feed Your Neighbor" 5k fundraiser. The course is certified and professionally timed. All monies raised will be donated to the Good Samaritan House of Carbondale. In addition, they are asking for participants and community members to donate non-perishable goods to be donated to the SIU Food Pantry. There will be music and great raffle prizes. 
Saturday April 7 - The Big Event: A Saluki Day of Service 
Morning and afternoon shifts available
Visit https://thebigevent.siu.edu/volunteer-registration.php to sign up for a volunteer slot and also for more details. 
Sunday April 8 - Green Dawgs Day at Touch of Nature
10 a.m.-4p.m.
Green Dawgs Day is a FREE event from 10 a.m. – 4 p.m. on Sunday, April 8 funded through the SIU Green Fund that welcomes students to Touch of Nature to be immersed in nature and learn about recreational and environmental opportunities on campus. Transportation will be provided for students leaving from the student center; Once on-site, students will be welcomed by sustainability and environmentally minded departments and organizations at SIU as well as the surrounding Southern Illinois community. This will give students the opportunity to network with professionals for internships and volunteer opportunities at SIU and across the region. In addition, Touch of Nature staff will be available throughout the entire program to facilitate various FREE activities for students such as canoeing, hiking, zip lining, rock climbing, and much more! Environmental Education will also be hosting a Project WILD training workshop! 
***Touch of Nature Trailbuilding: More dates include, April 15, 22, and 29 
To Win a Prize: Share our post on our Facebook page or on Instagram/Twitter to be entered for a chance to win this month's prize!  
Invite your friends to join the team, too. If they mention that you referred them when they sign up, you'll receive an extra entry in our next prize drawing.  
Keep up the great work,  
Saluki Green Action Team  
greenaction@siu.edu || @siugreenaction   
BECOME A SALUKI GREEN ACTION TEAM MEMBER