Take Action!
Main Content

Hello Saluki Green Action Team!   
Congratulations SGAT! You've made it halfway through the semester. One more week until spring break.

Did you know: Spring break season results in an increase in pollution in the ocean – particularly a specific kind of pollution?  
Take Action: Plan ahead before you go to the beach and take part in protecting the ocean. You can have a direct impact on the amount of nonpoint source pollution.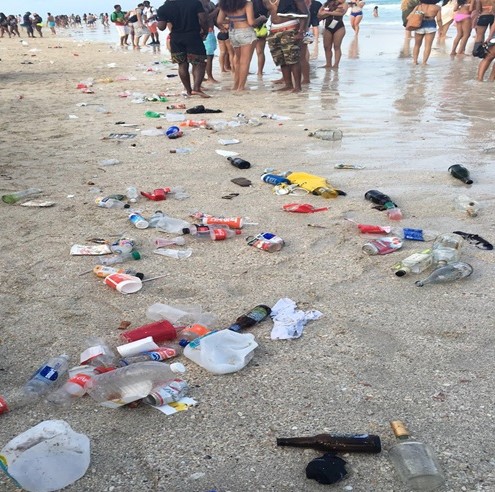 Nonpoint source pollution (NPS) is pollution that comes from many different sources, not one specific source such as a factory, and is most commonly carried by runoff. Pollutants are picked up by rainfall over the ground or washed away by waves, carrying natural and human-made pollutants into the ocean.  
Roughly 40% of college students travel to the beach over spring break and if they aren't careful, this influx of people can contribute to non-point beach pollution. 
There are many easy ways you can be a responsible beach visitor. By protecting the ocean you can help protect the animals that live there and their habitats as well. Beach visitors frequently leave behind such things as:  cans, tarps, food containers and towels.  
When at the beach bring reusable straws and cups to avoid single plastic use items.

 

Bring personal recycling bins/trash bags and use them.

 

Have a check list to make sure you leave with everything you brought.

 

If you see a

full

recycling bin talk to a local lifeguard, police officer or beach staff member about changing it.

 

Follow the clean-up initiatives for the city you are visiting.

 
You CAN make a difference! 
Other Resources:   
Spring Break contributes to beach pollution and what we can do about it. 
Learn more about nonpoint source pollution issues. 
Information about statistics of college student's spring breaks. 
Aftermath of beach destroyed by spring breakers. 
Definition of nonpoint source pollution. 
Source for picture of spring breakers and beach trash. 


Share our Facebook, Twitter, or Instagram posts! Invite your friends to sign up!

Keep up the great work,  
Saluki Green Action Team 
greenaction@siu.edu 
BECOME A SALUKI GREEN ACTION TEAM MEMBER