Take Action!
Main Content

Hello Saluki Green Action Team members!
Did you know that although the outdoor Carbondale Farmers' Market closes in November, you can continue buying from your local farmers throughout winter at the indoor Carbondale Community Farmers Market? The winter farmers market is open December through March at Carbondale Community High School on Saturdays from 9 a.m. to noon.
Take Action: Shop at your farmers' markets! Buying from local farmers benefits the environment, the community, and you:
Buying local reduces food miles, which decreases the fossil fuel emissions that go into getting food from the farm to your plate.
Shopping at the farmers' market supports local producers and puts money back into your community.
Food loses nutritional value over time; buying local ensures that your food is fresh and healthy.
The farmers' markets and the Neighborhood Co-op Grocery are participating members in the LINK Up Illinois program so for every dollar you spend on fruits and vegetables there you receive a $1 coupon, thereby doubling your purchasing power.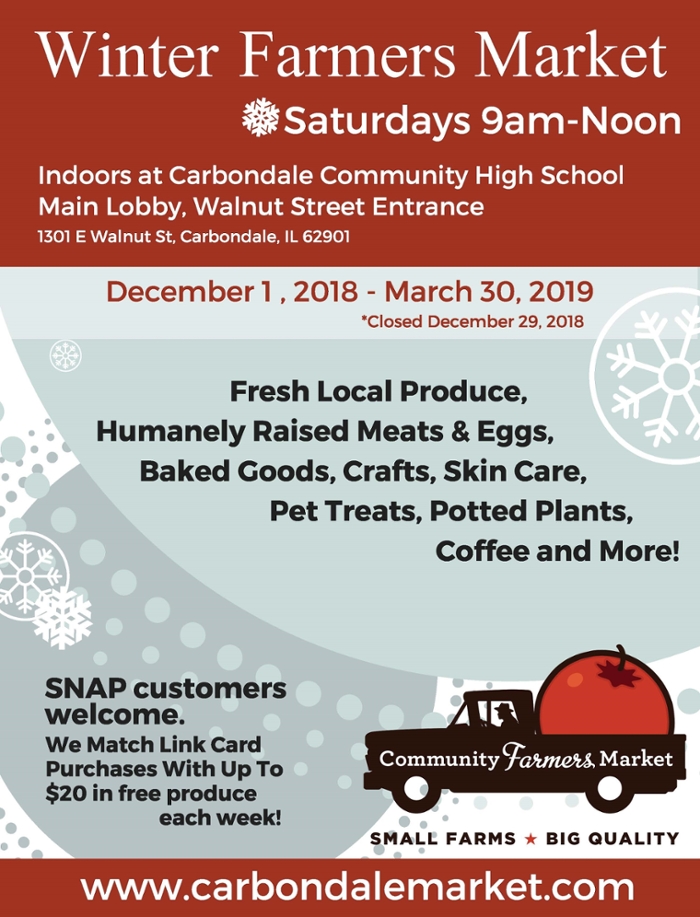 Winter Farmers Market
Saturdays 9 am - Noon
Indoors at Carbondale Community High School
Main Lobby, Walnut Street Entrance
1301 E Walnut St, Carbondale, IL 62901
December 1, 2018 - March 30, 2019
*Closed December 29, 2018
Fresh local produce, humanely raised meats and eggs, baked goods, crafts, skin care, pet treats, potted plants, coffee and more!
SNAP customers welcome .
We match link card purchases with up to $20 in free produce each week!
Sources: 
https://www.fwsoil.org/farmers-markets.html
Win a Prize: Share our Facebook, Twitter, or Instagram posts! Invite your friends to sign up, and you'll receive an extra entry in our next prize drawing.
Keep up the great work,  
Saluki Green Action Team 
greenaction@siu.edu 
BECOME A SALUKI GREEN ACTION TEAM MEMBER