Take Action!
Main Content

Hello Saluki Green Action Team - SGATs!  
Summer is here to stay...for now. With it comes all the heat and humidity. In our last two posts, we focused on some tips for staying cool and being conscious of our energy consumption. This week, we continue with our summer tips. July 4th is tomorrow! So, whatever fun activity you have planned in the coming week, we have a few more sustainable tips for you.  
Did you know? Energy consumption in the U.S. is comparatively higher in summer than in the other seasons? (source: Energy Consumption).  
Also, our bodies tend to require more effort to burn calories in the summer, even if we are sweating more (source: Dietetic Directions). 
Take Action:  
Keep cool: While indoors, keep your blinds or curtains closed. This helps keep the room cooler and reduces electricity use. If you are leaving the house for a period of time, keep your thermostat set to about 78 degrees.  
Stay hydrated but reduce plastic waste! Instead of buying several plastic water bottles, opt for a reusable bottle made from glass, stainless steel, or BPA-free plastic. Use any of the over 35 refillable water stations located in the Student Center, Morris Library, Rec Center, Faner Hall, Agricultural Building, Engineering Building and several other spots on campus to refill your bottle and stay hydrated. If you haven't already, stop by the Sustainability Hub in the Student Center to pick up a reusable water bottle!  
Planning for July 4th ? Mix a little green in with your red, white and blue! Think of fresh produce and fruits. They provide a rich source of nutrients for the body to help you stay healthy and active this summer. Take a trip to the Carbondale Farmers Market on Saturday and sample the variety of locally sourced produce. Additionally, you can reduce food waste by composting. Learn more here.  
Thinking of taking a trip? Consider the most fuel-efficient option available to you. For short distances, you can opt for a bus or the train to reduce fuel consumption and save money. For longer distance, you can either carpool with friends. If you're driving alone, make sure you are practicing fuel-efficiency: check to make sure your tires are properly inflated, avoid excessive speeding or braking abruptly, don't overload your vehicle, avoid idling, and use cruise control if possible.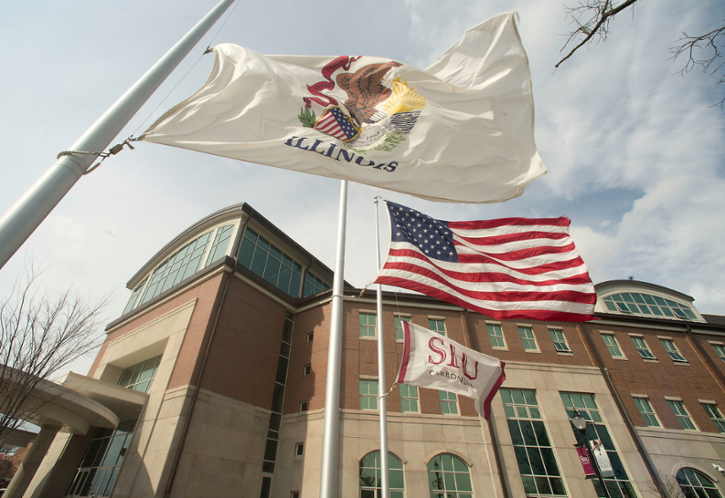 Sources: 
Fuel economy: https://www.fueleconomy.gov/feg/driveHabits.jsp. 
Reduce, Reuse, Recycle: https://www.epa.gov/recycle. 
More on summer sustainability: https://sustainability.sou.edu/summer-sustainability-tips/. 
Summer energy conservation: http://www.biggreenpurse.com/summer-energy-conservation/.  
Image: SIU Photoshelter.

Win a Prize: Share our Facebook, Twitter, or Instagram posts for a chance to win this month's prize!  
Invite your friends to join the team, too. If they mention that you referred them when they sign up, you'll receive an extra entry in our next prize drawing. 
Keep up the great work,  
Saluki Green Action Team 
greenaction@siu.edu 
BECOME A SALUKI GREEN ACTION TEAM MEMBER