Take Action!
Main Content

Hello Saluki Green Action Team - SGATs!   
National Bike Month keeps rolling on! Hopefully you were able to participate in last week's Bike to Work Week or Bike to Work Day on Friday. We have some great ideas below to help you finish Bike Month strong! 
Did You Know: In terms of greenhouse gas emissions by sector (industry, housing, energy, and transport sectors), the emissions from transportation are increasing at a greater rate than in any other sector? Already transportation accounts for one quarter of these emissions, and that number is expected to increase significantly in the next several years. 
Take Action Now: Utilizing more sustainable forms of transportation can reduce greenhouse gas emissions, and one of the easiest and most effective options is biking! Cycling isn't dependent on any nonrenewable fuels, it doesn't require large public funding, and biking is accessible to almost everyone. Consider riding a bike for short distance trips to help slow the increase in emissions caused by transportation. 
Calculate your potential carbon emissions savings here using factors such as commute time, number of trips, and vehicle efficiency.  Developed by Stanford University, this Commute Cost & Carbon Emissions Calculator also shows how much you could save in dollars every year by switching to sustainable transportation.  In addition to being environmentally and economically sustainable, biking can also be a great form of exercise and a lot of fun! Check out the events below for opportunities to decorate your bike, play bicycle games, and win prizes! 
Copies of the

updated version of the City of Carbondale's 

Bikeway Map

are available in the Sustainability Hub! 

 

While you're in the Hub getting your bikeway map, you can enter to win a 

free 

bicycle mirror. 

 

Also, check out details about biking at SIU at 

https://bike.siu.edu/

.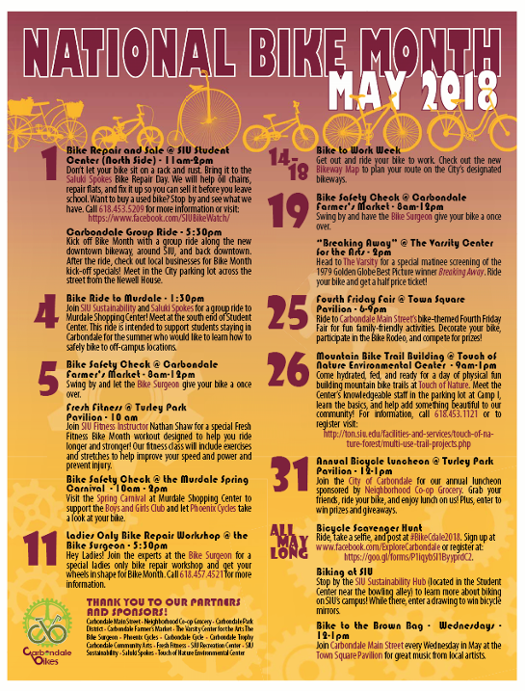 Sources:
https://sustainabledevelopment.un.org/topics/sustainabletransport
http://www.betterbybicycle.com/2014/02/cycling-is-most-sustainable-transport.html 

Win a Prize: Share our Facebook, Twitter, or Instagram posts for a chance to win this month's prize!  
Invite your friends to join the team, too. If they mention that you referred them when they sign up, you'll receive an extra entry in our next prize drawing. 
Keep up the great work,  
Saluki Green Action Team 
greenaction@siu.edu 
BECOME A SALUKI GREEN ACTION TEAM MEMBER