Take Action!
Main Content

Hello Slauki Green Action Team - SGATs!
We have a tremendous impact on our environment with our daily actions, whether we are conscious of it or not. These weekly suggestions can help steer us in the right direction, make sustainable choices, and act more diligently. 
Did you know: Recycling 1 plastic bottle can save enough energy to power your laptop for 25 minutes? Different types of plastic bottles take varying lengths of time to decompose but on average, it can take about 450 years for 1 to break down in a landfill. A glass bottle on the other hand, will require approximately 1 million years to break down in the landfill. If recycled however, it can produce about 4 hours of light from a 100-watt bulb.  
Take Action!: Recycling plastic and glass bottles is one smart choice for the environment. Here are a few more: 
Take your "green" reusable bags with you to the grocery shop or for a trip to the gym. Come pick one up from the Hub if you don't already have one. 
Try biking, walking, or car-pooling more often. It will save you money on gas, and is a great way to stay healthy (Biking on SIU campus).
Opt out of junk mail to reduce the amount of paper mail you receive.
Earth Month is drawing to a close. Join us at the following events to commemorate it and learn more about sustainable choices: 
***This event was scheduled at a different time originally, but was rescheduled for this day*
Wednesday, April 25 - Compost Bin Workshop - Morris Lawn 12 – 3 p.m. 
4:30 p.m. - Sustainability Collaborative visit to the forced aeration compost facility 
3689 W. Pleasant Hill Rd. 
Go on a tour of the compost facility that processes all the dining waste from our dining halls into valuable, reusable, nutrient rich compost. 
---
Thursday, April 26 - Paper making, plant pots, and seed bombs 
Student Center Craft Shop, 4-6 p.m.
Make paper, plant starters and seed bombs. from recycled paper and other natural found fibers. Reserve a spot at the Craft shop or call 618-453-3636.
Fee: $5.00 
---
Friday, April 27 - Sustainability Celebration (see flyer below) 
Morris Library Guyon Auditorium, 9:30-11 a.m.
The Sustainability Council will announce Green Fund awardees and the Chancellor will recognize those receiving the Environmental Ambassador's Award. After the formal ceremony, there will be an interactive area with tables and displays. Light refreshments provided.
---
Saturday, April 28 - 45th Annual Great Cardboard Boat Regatta 
SIU Campus Lake Boat Dock, 10 a.m. - 4 p.m. 
The 45th Annual Great Cardboard Boat Regatta will take place Saturday April 28th on the Campus Lake at the Southern Illinois University. Registration will begin at 10:00 am and races will start at 1:00 pm. 
***Kid Friendly 
---
Monday, April 30 - Moonlight Canoe 
SIU Campus Lake Boat Dock, 6-9 p.m 
Join the experienced Outdoor Pursuits staff for an evening of instruction and exploration! This free event gives students information about canoeing, rentals, and courses provided by SIU. S'mores and slacklining will also be provided. Participants must bring a valid SIU Student ID.
---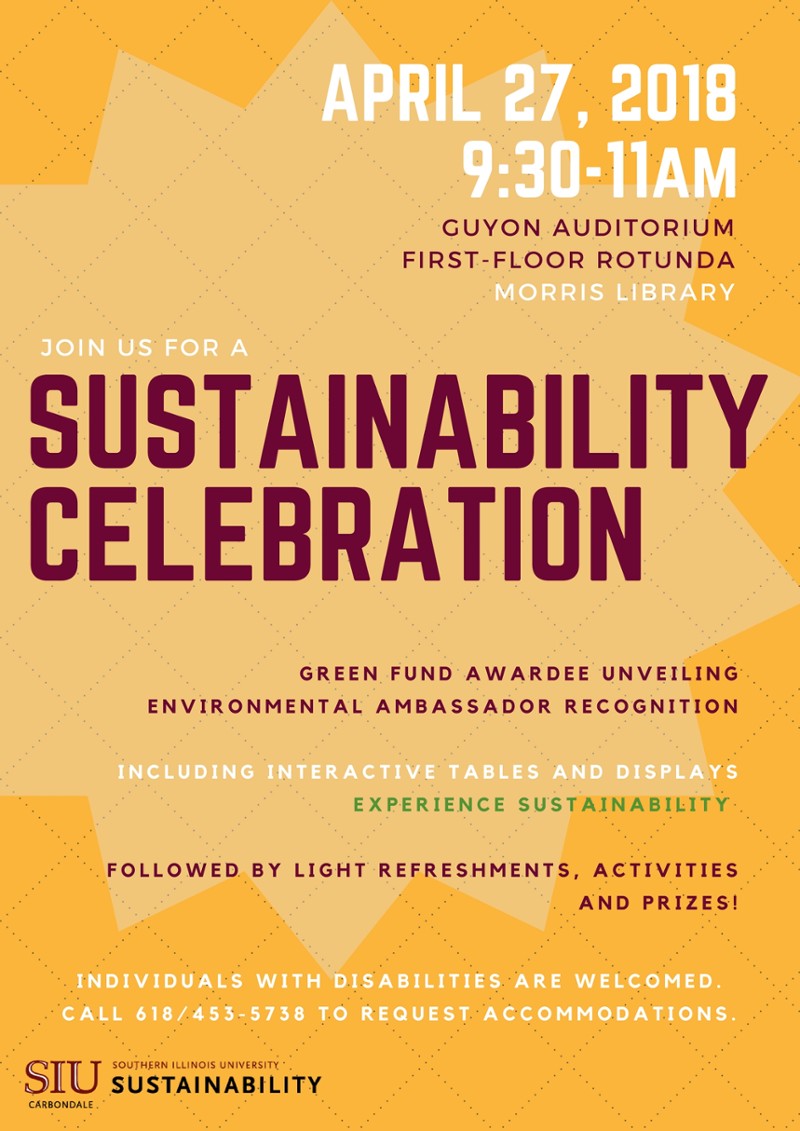 When:
April 27, 2018
9:30 - 11 am. 
Where:
Guyon Auditorium
First-Floor Rotunda
Morris Library
Join us for a sustainability celebration!
Green fund awardee unveiling environmental ambassador recognition.
Including interactive tables and displays experience sustainability.
Followed by light refreshments, activities and prizes!
Individuals with disabilities are welcomed.
Call 618/453-5738 to request accommodation.
Sources:
To Win a Prize: Share our post on our Facebook page or on Instagram/Twitter to be entered for a chance to win this month's prize!  Invite your friends to join the team, too. If they mention that you referred them when they sign up, you'll receive an extra entry in our next prize drawing.
Keep up the great work, Saluki Green Action Team
greenaction@siu.edu |@siugreenaction
BECOME A SALUKI GREEN ACTION TEAM MEMBER