Take Action!
Main Content

Hello Saluki Green Action Team - SGATs!   
As April begins, think about ways that you can make an impact on the world around you. Start by getting involved in Earth Month celebration events and practice sustainable actions everyday. 
Did you know: There are many ways to reduce your environmental impact? You can start by planting a tree. Trees support many different organisms by providing shelter and food. For example, the Hackberry Emperor butterfly eats tree sap. Trees can also absorb harmful chemicals from the environment and they also produce the oxygen we breathe. In fact, one large tree can provide a day's supply of oxygen for up to four (4) people! 
Sustainable farming is another important practice to  limit our direct impact on the environment as much as possible, especially in a world facing increased pollution and soil erosion. Today, there are 2.3 million certified organic farmers in 172 countries, but only 1 percent of all agricultural land is organically farmed.  
Likewise, eating food that is locally grown is better for the environment because there is much less use of valuable resources since what you eat is not traveling a long distance to your plate.  
Take Action! 
Come 

Plant a Tree

 on April 17 from 

 9-11 a.m. and noon-2 p.m. 

at the Communications Building in support of our 

Tree Campus USA

 designation.

 



T

he 

Student Sustainable Farm

 volunteer day is 

April 18 from 3-5 p.m.; come lend a hand! 

 



Our third annual 

Farm to Fork Dinner

, which 

highlights items grown or produced on local farms

 is Wednesday, April 18, at 5:30 p.m.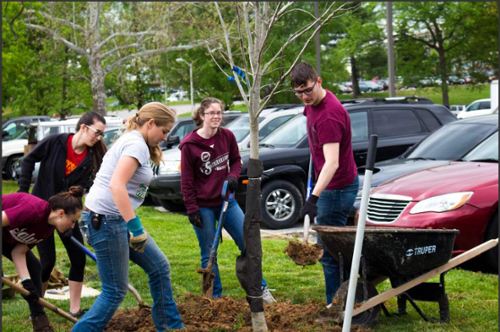 Students and Staff participants planting trees to celebrate our Tree Campus USA designation.
Sources: https://projects.ncsu.edu/project/treesofstrength/benefits.htm;
http://blog.agrivi.com/post/the-most-important-facts-about-organic-farming; https://www.arborday.org/trees/treefacts/    
To Win a Prize: Share our post on our Facebook page or on Instagram/Twitter to be entered for a chance to win this month's prize!  Invite your friends to join the team, too. If they mention that you referred them when they sign up, you'll receive an extra entry in our next prize drawing.  
Keep up the great work,  
Saluki Green Action Team  
greenaction@siu.edu || @siugreenaction   
BECOME A SALUKI GREEN ACTION TEAM MEMBER