Take Action!
Main Content

Hello Saluki Green Action Team!  
 


Did you know: Since starting in the spring of 2017, more than 300 Salukis have joined together in the Saluki Green Action Team! With over 30 weekly recommendations and counting, we are collectively creating a more sustainable campus.  
 
Take Action Now: Help us measure our successes and improve the program by taking this 3 minute survey here!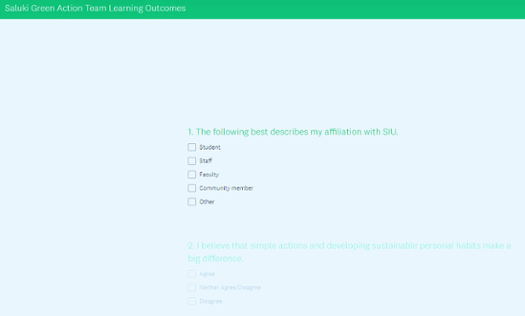 You can also copy and paste this url into your web browser to take the survey: https://www.surveymonkey.com/r/8D2ZYVT  
Thank you for your commitment to the program. Your answers will remain anonymous, please answer as honestly and accurately as possible.  
 

To Win a Prize: Take the 3 minute survey here and your name will be entered for a chance to win this month's prize! 

Share our post on our Facebook page or on Instagram/Twitter to also be entered for a chance to win this month's prize! 
Invite your friends to join the team, too. If they mention that you referred them when they sign up, you'll receive an extra entry in our next prize drawing. 
Keep up the great work,
Saluki Green Action Team
greenaction@siu.edu
BECOME A SALUKI GREEN ACTION TEAM MEMBER