Take Action!
Main Content

Hello Green Action Team!
Last week we learned how to lower energy costs while you are away on vacation. This week we'll focus on saving energy during a normal work/school week. 
Did You Know: By adjusting your thermostat while you are out, you can save about 10% annually on your bill. For example, during the summer, keep your house warmer than normal when you are away, and return the thermostat setting to 78°F (26°C) only when you are at home and want to be cooler. The smaller the difference between the indoor and outdoor temperatures, the lower your overall cooling bill will be. (Source: https://energy.gov/energysaver/thermostats) 
Take Action Now: If you are heading out for the day this summer, turn up the thermostat 5-10 degrees. You can cool off your home when you are back. Staying at home all day? Try closing some blinds to help stay cool! 
To Win a Prize: Show us how you are taking action and beating the heat while still conserving energy. Post your methods to our Facebook page or tag us on Instagram/Twitter (@siugreenaction) to be entered for a chance to win this month's prize! 
Invite your friends to join the team, too. If they mention that you referred them when they sign up, you'll receive an extra entry in our next prize drawing. 
Keep up the great work,
Saluki Green Action Team
@siugreenaction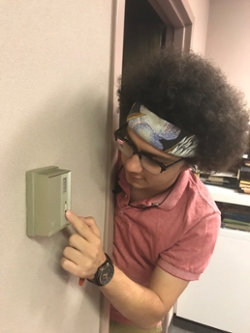 SIU Sustainability Fellow, Andrew Aaflaq, shows us how to take action and save energy by adjusting the thermostat.