Green Tour
Main Content
Join us at our First Friday Green Tours! On our walking tours, you can see campus sustainability projects in person and experience them first hand! During the academic year, the tours meet on the first Friday of the month at noon in the Innovation and Sustainability HUB, or by appointment. The typical walking tour covers about a dozen green funded projects, with stops along the way in the Student Center, Agriculture Building, and Faner Hall. However, tours can also be catered to specific interests! SIU currently has 169 Green Funded projects, totaling over $2.1 million dollars invested in sustainability!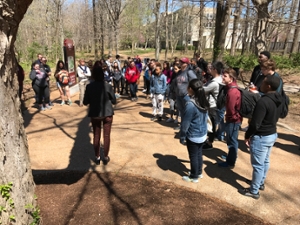 Please contact the Sustainability Office at sustainability@siu.edu or call 618-453-2786 if you are interested in coordinating or taking a tour in the future.
Walking Green Tour:
1. Student Center – Home to the Sustainability Office and the new Innovation and Sustainability Hub, the Student Center has been an early advocate for sustainable practices, featuring water refilling stations, a solar powered trash can/compactor, a LED lighting project supported by the Green Fund, compostable food containers, ample recycling, and green meeting guidelines for events.
2. Big Belly Solar Trash Compactors – There are four Big Belly Solar Trash Compactors on campus and in just six months they collected a quarter ton of trash waste and almost 200 lbs of bottles and cans.
3. Bicycle Maintenance Repair Stations - Located at various spots across campus, the bicycle repair stations were installed through a partnership with the Department of Public Safety, Saluki Spokes, and the Sustainability Office. Each station features tools to help cyclists make basic bicycle repairs, from changing flats to adjusting brakes.
4. Rain Garden - Funded in the Spring of 2011 SIU's rain garden directs water coming from Thompson Woods back into the woods to replenish ground water instead of flowing in to underground drainage pipes and to plant native plants in the created rain garden.
5. Green Wall / Vertical Garden (Agriculture Building) - Through a collaboration with the Architecture Fine Arts Lecture Series and the College of Agricultural Sciences, Professor Karen Midden was able to invite artists Larent Corradi and Marie Steffanetti to SIU to construct a vertical garden. The vertical wall and design of the garden prevents water waste and special lights are used to simulate sunlight and provide energy for growth. The vertical garden is not only beautiful but it also works to purify the air.
6. Elkay Refillable Water Stations - At least 30 water bottle refilling stations are installed across the Southern Illinois University Carbondale campus. Some of these refill stations have been funded by the Student Green Fee. Water refill stations continue to be added to campus locations as other water fountains become outdated. According to research, about three-fourths of all plastic water bottles end up in landfills, where they can take up to 450 years or more to degrade. These refillable water bottle stations encourage reusable bottles, eliminating unnecessary plastic waste.
7. Green Roof (Agriculture Building Roof) - Awarded in Spring 2010, the Green Roof Installation was led by Karen Midden, Associate Dean of Agricultural Sciences. Check out this video, highlighting the green roof!
8. Solar Charging Picnic Table - The Solar Charging Picnic Table gives students the ability to charge electronic devices at a solar-powered charging station. Made of recycled plastics, the table is entirely "green" and comes equipped with an umbrella, four seats, a solar array, a 110-volt charger, a display box and two USB ports.
9. University Museum - the University Museum has initiated multiple projects that highlight sustainability, from changing the museum infrastructure (utilizing LED lights) to hosting sustainable art events.
Want to see even more campus sustainability projects funded by the green fee? We offer virtual green tours that cover even more projects, including some listed below! Interested in a specific project? Ask us about it at sustainability@siu.edu! We will work to get the right information to you.
More Green Fund Projects:
10. Solar Array – the Solar Array on campus was commissioned in 2004 and has proven to be a great teaching tool.
11. Dental Hygiene Clinic – The Dental Hygiene Clinic is one of the Green Fund's most ambitious projects and has been greatly successful in forwarding both the educational and environmental goals of the school. The project allowed the clinic to move to a completely paperless and chemical-free patient record system.
12. Theater lighting - The Green Fund has awarded several projects to the Theater Department to practice sustainability in their productions and sage design. 
13. Prairie Garden / Native Plants - Awarded in Fall 2012 the Praire Garden is located outside of Life Sciences building II. It proves to hold both aesthetic beauty and education uses for several classes here at SIUC. 
14. Flyash Patio - Funded in Fall 2009 the flyash patio is located outside of the Agriculture building and partially constructed with fly ash products, a byproduct of coal. This space
 exhibits an outdoor space using sustainable landscape practices and materials while providing functional and socializing space in an aesthetically pleasing environment
15. Center for Sustainable Farming (off campus) – SIU's Center for Sustainable Farming includes the SIU Sustainable Farm and the LOcal Garden Initiative of Carbondale (LOGIC), which is a registered student organization that welcomes students from diverse backgrounds to grow sustainable food and makes it accessible to the campus community via the weekly (and very affordable) farmstand.
16. The LOcal Gardening Initiative of Carbondale (LOGIC) provides guidance, instruction, and hands-on opportunities for students from across campus to learn about the ecological and health benefits of sustainable food production while actively participating in all phases of growing their own food.  Students have the opportunity to plan gardens, build the beds, prepare the soil, plant seeds, tend to the plants' growing needs, harvest in the proper season, and finally to experience the joy of eating and sharing food that they helped to grow. We meet weekly and welcome all students! Contact LOGIC at logicsiu@gmail.com for more information!"
17. Forced Aeration Composting Facility and Vermicomposting Facility 
- The operation of the Forced Aeration Compost Facility is a collaboration between the College of Agricultural Sciences, University Housing, and Plant and Service Operations. The composting facility collects food waste from both dining halls and mixes it with other inputs to create compost used on campus.
- Located at the SIU Sustainable Farm, the vermicomposting center is a joint effort between Plant Service Operations and research faculty in Agricultural Sciences. 
18. Bucky's Haven – This geodesic dome structure by campus lake was assembled when Buckminster Fuller (who many call the father of the modern sustainability movement) was a professor on campus.  
19. Transportation Education Center – We are proud of our Silver LEED (Leadership in Energy and Environmental Design) Certified building, located just off campus and home to our Automotive and Aviation departments. Sustainable goals were considered during project planning and were integral during the design, construction, and utilization process. The project incorporated sustainable site strategies, natural day lighting, material use, and energy efficiency. 
20. Biological Science Greenhouses - The Plant Biology (PLB) Greenhouse is operated by the Department of Plant Biology, College of Science at Southern Illinois University. Its purpose is to support the educational and research goals of that College as well as other campus units
To get a better idea of how projects are spread out around campus, you can browse our Green Tour map, created by Jennifer Haegele, of the Geospatial Resource Center in Morris Library. The map features just 21 of our more prominent Green Fund and sustainability projects. The numbers in maroon represent projects that can be featured on the Green Tour campus walk (please note that the numbers on the map do not correlate with the numbered projects above).
Download the Green Tour map!