Sustainability Month
Main Content
CAMPUS SUSTAINABILITY MONTH 2017
SIU is proud to participate in the Campus Sustainability Month throughout October. This annual event, hosted by the Association for the Advancement of Sustainability in Higher Education (AASHE), celebrates higher education sustainability achievements on campuses while raising awareness of the value of sustainability in higher education.
To celebrate, the Sustainability Office has created a month-long calender of activities that you can get involved in.
Don't forget to use #SIUSustainabilityMonth in your posts!
We hope you will join as we celebrate our sustainability successes!
***Note: Events listed in green are sponsored by, or a collaboration with, SIU Sustainability.*** 
Thank you to campus and community members who submitted events for our calendar!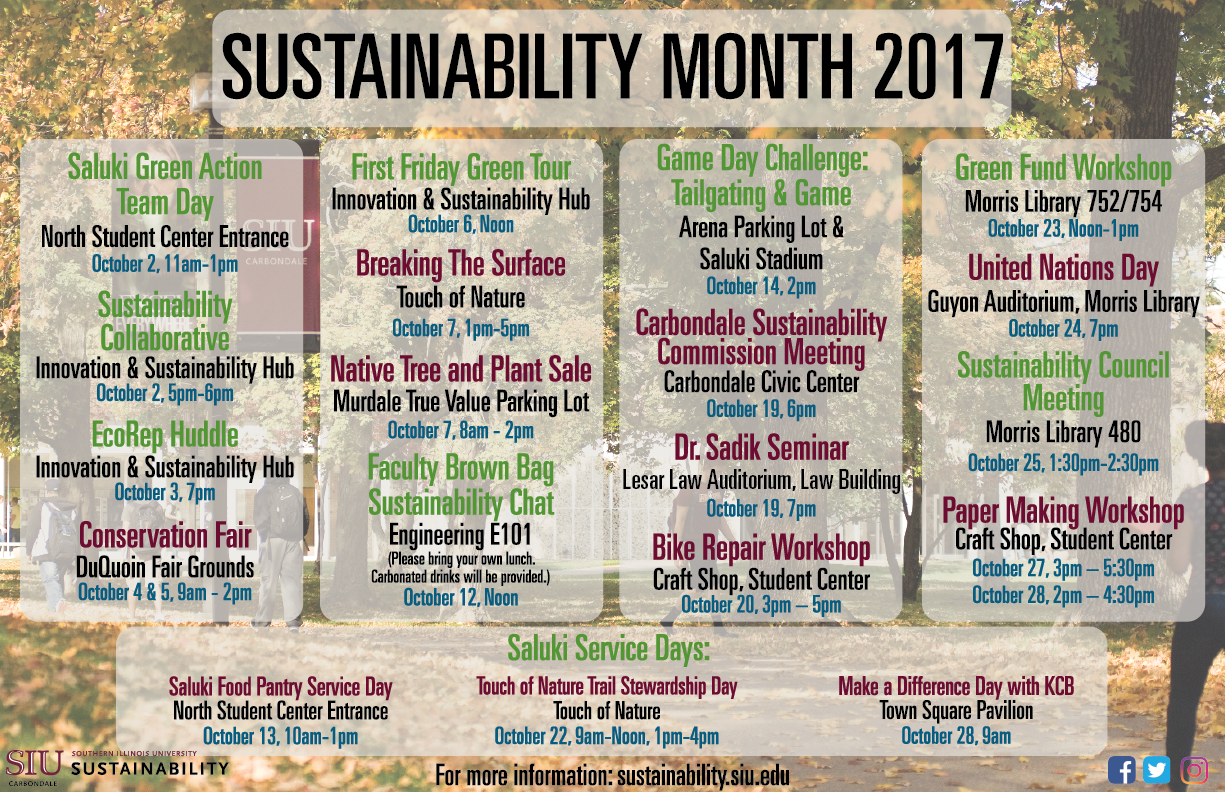 .
SUSTAINABILITY MONTH 2017
-----------------------------------
2017 EXTENDED CALENDAR
-----------------------------------

Saluki Green Action Team Day
North Student Center
October 2, 11AM - 1PM

---

Sustainability Collaborative
Innovation & Sustainability Hub
October 2, 5PM - 6PM

---

EcoRep Huddle
Innovation & Sustainability Hub
October 3, 7PM

---

Conservation Fair
DuQuoin Fair Grounds
(Hosted by Jackson County Soil and Water Conservation District, for grades 1-5)
October 4 and 5, 9AM - 2PM

---

First Friday Green Tour
Innovation & Sustainability Hub
October 6, NOON

---

Breaking The Surface
Touch of Nature
October 7, 1PM - 5PM

---

Native Tree and Plant Sale
Murdale True Value parking lot
(Support Green Earth and Keep Carbondale Beautiful)
Saturday, October 7, 8AM - 2PM

---

Kaleidoscope of Outdoor Living - Land Navigation
Touch of Nature 
Basic: Wednesday, October 11, 2PM - 5PM ($15)
Advanced: Thursday, October 12, 2PM - 5PM ($30)

---

Faculty Brown Bag Sustainability Chat
Engineering E101
October 12, NOON

Saluki Service Days
Saluki Food Pantry Service Day - North entrance of Student Center
October 13, 10AM-1PM

---

Homecoming: SIU v. Illinois State
Join us at Saluki Stadium and in the tailgating areas as we promote recycling.
October 14, 2PM

---

Kaleidoscope of Outdoor Living - Rock Climbing
Touch of Nature 
Basic: Wednesday, October 18, 2PM - 5PM ($20)
Advanced: Thursday, October 19, 2PM - 5PM ($35)

---

Carbondale Sustainability Commission Meeting 
Carbondale Civic Center
(City commission meets monthly on 3rd Thursday)
Thursday, October 19, 6PM

---

Dr. Sadik Seminar
Lesar Law Auditorium
October 19, 7PM

---

Bike Repair Workshop
Craft Shop, Student Center
Learn to fix your own bike, brakes, flat tires, Adjust or replace shifting cables, tighten bearings, true wheels. The bigger the class the more repair items we can learn from. Bring your bike.
October 20, 3PM – 5PM
Cost: SIU Students $10, Community Members $15

---

Saluki Service Days 
Touch of Nature Trail Stewardship Day
Touch of Nature
October 22, 9AM - NOON, 1PM - 4PM

Green Fund Workshop
Morris Library 752/754
October 23, NOON-1PM

---

United Nations Day
Guyon Auditorium, Morris Library
October 24, 7PM

---

Sustainability Council Meeting
Morris Library
October 25, 1:30PM - 2:30PM

---

Kaleidoscope of Outdoor Living - Leave No Trace Basic Course
Touch of Nature 
Thursday, October 26, 2PM - 5PM ($15)



---

Paper Making Workshop - Craft Shop, Student Center
Section 1 Friday October 27, 3PM – 5:30PM
Section 2 Saturday October 28, 2PM – 4:30PM
Use recycled and nature found materials to make one of a kind art paper. Great for special occasions, printing, stamping and other crafty endeavors.
SIU Students $10 Community Members $20

---

Kaleidoscope of Outdoor Living - Camp Crafts Overnight Course
Touch of Nature 
Friday and Saturday, October 27-28, 5PM - 10AM ($60)

---

Saluki Service Days 
Make a Difference Day with KCB
KCB Cleanup starts at Town Square Pavilion
Saturday, Oct 28, 9AM

---

They Call Me Q - by Qurrat Ann Kadwani
University Honors Program and the Multicultural Resource Center
Student Center Auditorium
October 30, 6PM -7:30PM