Recycling Program
Main Content
Southern Illinois University Carbondale is committed to a robust, campus-wide recycling program to reduce our environmental impact. By creating a culture of sustainability, SIU hopes to foster in our students life-long habits of recycling and sustainability-minded action. 
The following are the types of recyclable materials accepted in all buildings with recycling containers:
Mixed Recycling
Paper Recycling
Cardboard
Ink/Toner Cartridge Recycling
Electronics
Toothbrushes and Miscellaneous Dental Hygiene Materials
Other Resources
PRINTABLE RESOURCES
Click on the images above for a large printable version of each.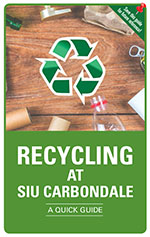 Click on the image above for a printable version
of the Recycling at SIU Carbondale Quick Guide.
Other printable resources can be found in the column to the right.
The Sustainability Office collaborated with AIGA, a professional student design Registered Student Organization, to create a bin signage and labeling system to help communicate what is and is not recyclable on campus. Their designs continue to inform the design of our ongoing signage initiatives. The photo below shows some of their signage located at Touch of Nature Environmental Center: