Green Tour
Main Content
Campus Green Tour
Join us for a Green Tour! On our campus tours, you can see sustainability projects first hand. During the academic year, the First Friday Green Tours start on the first Friday of the month at noon in the Sustainability Hub. Other Green Tours can be scheduled by appointment. The typical tour covers about a dozen campus sites, including a selection of projects funded by the Student Green Fee. However, tours can also be catered to specific interests! The tour is is free and open to students, staff, faculty, and the general public. Individuals with disabilities are welcomed. Call 618/453-5738 to request accommodations.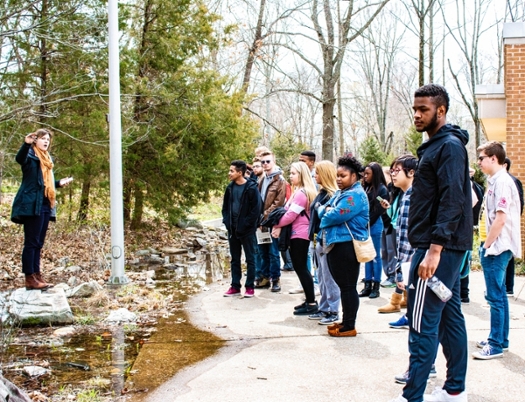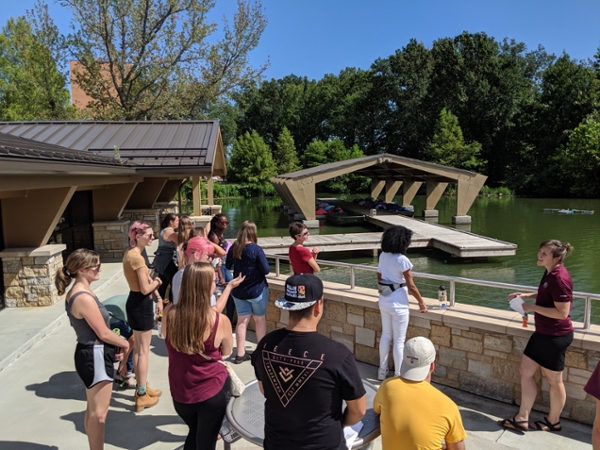 Please contact the Sustainability Office at sustainability@siu.edu or call 618-453-2846 if you are interested in coordinating or taking a tour in the future.

Stops on the Green Tour may include:
Student Center – Home to the Sustainability Office and the Sustainability Hub, the Student Center has been an early advocate for sustainable practices, featuring water bottle refill stations, a solar powered trash can/compactor, an LED lighting project supported by the Green Fund, compostable food containers, and green meeting guidelines for events.
Bicycle Maintenance Repair Stations - Located at various spots across campus, the bicycle repair stations were installed through a partnership with the Department of Public Safety, Saluki Spokes, and the Sustainability Office. Each station features tools to help cyclists make basic bicycle repairs, from changing flats to adjusting brakes.
Green Wall / Vertical Garden and Green Roof (Agriculture Building) - Through a collaboration with the Architecture Fine Arts Lecture Series and the College of Agricultural Sciences, Professor Karen Midden was able to invite artists Larent Corradi and Marie Steffanetti to SIU to construct a vertical garden. The vertical wall and design of the garden prevents water waste and special lights are used to simulate sunlight and provide energy for growth. The vertical garden is not only beautiful but it also works to purify the air.
Engineering Building- The Energy Scholars have written and received several Green Fund Grants to install lighting and energy efficiency upgrades.
Campus Lake - The site of the Eco-Rec project lead by professors in Zoology and Engineering.
Water Bottle Refill Stations - At least 30 water bottle refilling stations are installed across the Southern Illinois University Carbondale campus. Some of these refill stations have been funded by the Student Green Fee. Water refill stations continue to be added to campus locations as other water fountains become outdated. According to research, about three-fourths of all plastic water bottles end up in landfills, where they can take up to 450 years or more to degrade. These refillable water bottle stations encourage reusable bottles, eliminating unnecessary plastic waste.
Other campus green sites are described here. Want to learn even more? We offer virtual green tours that cover even more projects! Interested in a specific project? Ask us about it at sustainability@siu.edu!
To get a better idea of how projects are spread out around campus, you can browse our Green Tour map, created by Jennifer Haegele, of the Geospatial Resource Center in Morris Library. The map features just 21 of our more prominent Green Fund and sustainability projects.