Give Before You Go!
Main Content
2019
Details coming soon! Give Before You Go 2019 will take place from May 3 - May 11. 
2018
Congratulations! During May 2018 Give Before You Go!, SIU students donated the following to community organizations, also diverting these items from the landfill!
approximately 9398 pounds of clothing, furniture, appliances, shoes, bedding, towels, kitchen wares, and more 
1162+ usable food items
22 winter coats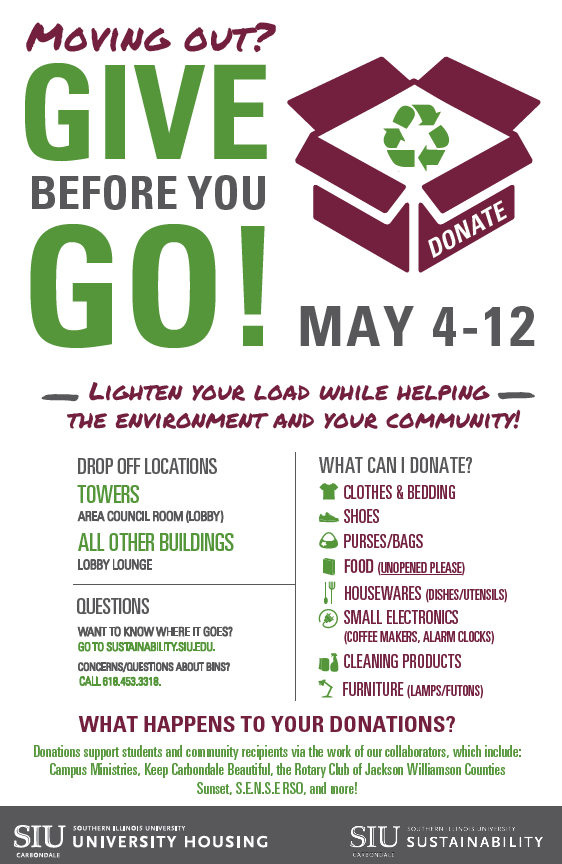 From May 4 to May 12, University Housing collaborated with the Sustainability Office and other on-campus and off-campus stakeholders to divert unwanted items from the landfill! Thank you to all students, staff, community members, and faculty who supported this program! If you have questions or concerns about Give Before You Go!, or you have suggestions for improvement for next year, please contact us at sustainability@siu.edu. 
Who did the donations benefit?
Donations supported students and community recipients via our community collaborators, which include:
Campus Ministries (Wesley Foundation Food Bank, Saluki Food Pantry, the Carbondale Thrift Shop)
Keep Carbondale Beautiful (area teachers, Carbondale Park District, Freecycle)
Rotary Club of Jackson Williamson Counties Sunset (Carbondale Towers, Night's Shield, Lighthouse Shelter, Herrin House of Hope, Teach My Kenyan Children, and more)
S.E.N.S.E. RSO (winter coat collection for Saluki Food Pantry)
 Previious Years: