Vertical Garden
Main Content
Vertical Garden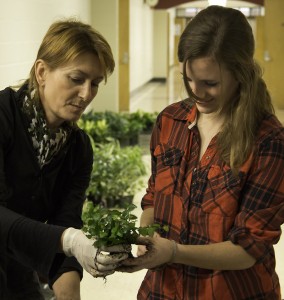 If you frequent the College of Agriculture Building at Southern Illinois University Carbondale, you may have noticed that a beautiful wall composed of a variety of tropical plants has been installed in the south wing of the building. This vertical garden was constructed by artists Laurent Corradi and Marie Christine Steffanetti with the help of numerous volunteers beginning on Thursday, October 26, 2012. It was completed on Monday, October 29th.
You may wonder how such a grand endeavor ever made its way into the halls of the Agriculture Building. It begins with the artists: Laurent Corradi and Marie Christine Steffanetti of plantwalldesign. The couple began their work in New York City with the installation of a vertical garden for Phyto Universe Salon, which, upon completion,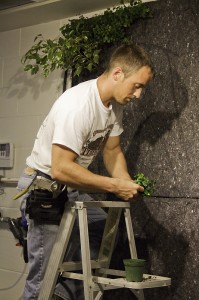 covered the length of a 6000 square foot wall. It was at this location that Karen Midden, a Professor and Landscape Architect in the Plant, Soil, and Ag Systems department at SIU, met Corradi and learned about the vertical garden system. "Returning back to Carbondale, I decided that was the best system I'd seen and wanted to get the best one at SIU," Midden said.
Through the support of Student First Year and the Architecture Fine Arts Lecture Series, the College of Agricultural Sciences, and the financial support of the Sustainability Council through the Green Fund, Midden was able to invite Corradi and Steffanetti to SIU to construct a vertical garden on campus. It was Corradi's first opportunity working with students.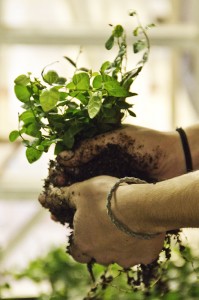 The patented system that was implemented by the plantwalldesign artists and student volunteers at SIU consists of a special type of felt which is attached to marine plywood affixed to the wall. Horizontal cuts are made to an additional layer of felt, and a little pocket is made for the plants to be placed into. The two pieces of felt allows irrigation using water with added nutrients: "very little water is wasted," Midden stated, "yet there is a trough at the base to collect the little run off." Special lights which simulate sunlight also provide the tropical plants the energy to thrive.
The vertical garden not only helps to uplift the emotions of people in the building, but also improves their physical health by purifying the air. "Several people already have commented that it smells fresh by the plants," Midden noted. The project is not quite complete yet, though, as the grant allows funding for Midden, through a joint effort with graduate student Rocco Milano, to integrate additional plant systems into built environments as part of a vertical farm.