Theater Sustainability
Main Content
Sustainable Theater
The Green Fund has awarded several project to the Theater Department to practice sustainability in their productions and stage design, significantly reducing energy usage and waste in building stage materials.
In successive Green Fund grants, lighting control consoles and several LED light fixtures have been added to the McLeod Theater, reducing the energy usage of the lighting for theater productions by almost 75%, while allowing vivid colors to be produced for theatrical effect.  With the LED fixtures provided by these funds, the Department has substantially decreased the energy consumption during performances. As an example, a silhouette effect was created for the recent production of Rag Time using these lights.  
This effect alone (not counting other LED fixtures used in the production) consumed 2,160 watts of electricity. To create a similar effect utilizing convention fixtures would have consumed 54,000 watts of electricity. For the run of the production and rehearsals this represents a saving of approximately 2,480 kilowatt hours of energy. Additionally the new lighting console has provided students to work with technologies previously unavailable and student designers the opportunity to create designs using industry standard technology.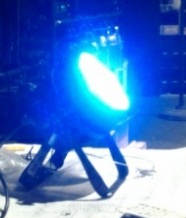 Students have had the opportunity for practical experience utilizing LED lighting fixtures, experiment with vastly improved color mixing technology and using the advanced programming capabilities of the new console they have been given a greater understanding of lighting programming with DMX 512 protocols. Students and audiences have gained exposure to sustainable illumination technologies and an appreciation for the need for conservation of electrical energy.  This project has been spearheaded by Professor Mark Varns and his students.
Additionally, almost $50,000 was awarded for the purchase of a new Steeldeck stage platform to replace the wood platform the department had been using, significantly reducing the amount of lumber waste used in building and designing sets for theatrical productions.  This system has also provided students with the opportunity to use an industry standard and have furthered their knowledge of what can be sustainable in theater.