Digital Scriptreaders
Main Content
Digital Scriptreaders
Plays and musicals require many scripts for each character. The amount of paper can be overwhelming in larger productions when there are 15 or 20 actors and actresses. Scripts can get up to 100 pages or even more, and this can result in large amounts of paper and ink. Recycling all of the paper to be reusable is helpful, but what if the amount of paper could be reduced as well? With the aid of the Green Fund, the McLeod Theater hopes to do just that.
In the spring 2015 semester, the Green Fund allowed the theater to purchase 10 electronic tablets to replace paper scripts. The tablets immediately went to use in two classes, and allowed actors to download their scripts on the tablet and interact with them at the touch of a fingertip or with the stylus. Using this interactivity, they can write notes to themselves, mark cues, jot down questions, or make further changes in order to help learn their lines. This is a much easier alternative to filing through a stack of one hundred or more pages and keeps the pages from being torn or lost. Also, the tablets are much lighter and easier to carry around on stage.
Greg Aldrich, a PhD playwriting student who proposed the plan for the tablets, helped apply for the Green Fund grant. "The tablets work out great and the actors love using them," he said, "they are definitely a great alternative to using so much paper."
Jacob Juntunen, Associate Professor (Dramatic Theoy, Criticism, and Playwriting) said these tablets saved the actors from having to use about 15,700 sheets of paper. However, the savings do not stop there. In addition to the huge amount of paper, they also saved on ink, labor, shipping, and other costs that come from printing.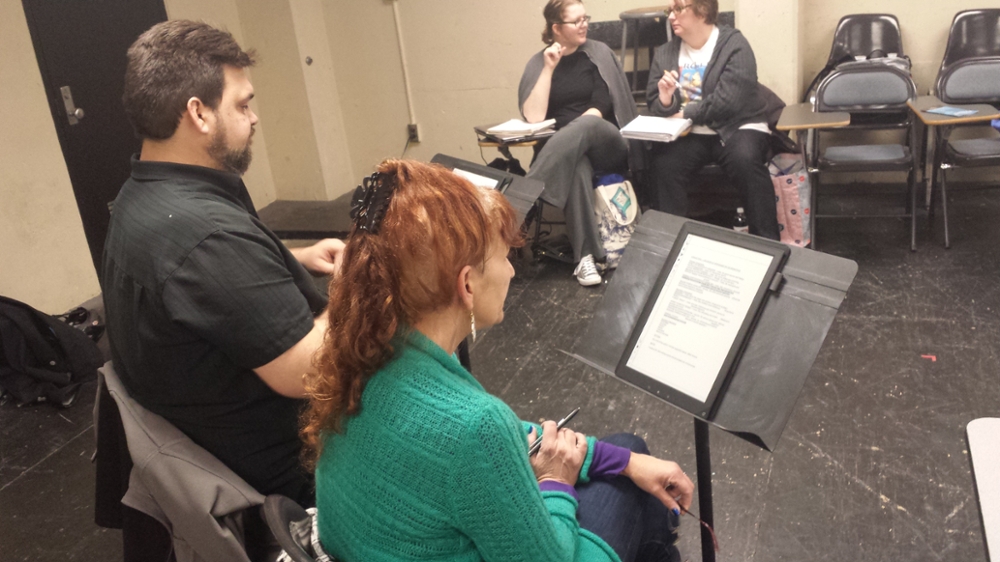 The department is looking for more uses for digital paper and hopes to promote the idea to other schools to spread the sustainable thinking.
--Story provided by Austin Nunn, March 1, 2016.