Sustainable Farm
Main Content
Sustainable Farming
The Center for Sustainable Farming on Pleasant Hill Road southwest of campus is made up of several components, most notably the SIU Sustainable Farm and LOGIC (LOcal Gardening Initiative of Carbondale).  Both initiatives have thrived with the help of the Green Fund.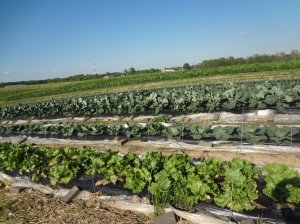 Begun in 2009-2010, the SIU Sustainable Farm is run by the SIU College of Agricultural Sciences and operates as a partnership between the College of Ag, the Sustainability Council, and University Housing.  This "Farm to Fork" initiative provides a variety of vegetables to the Dining Halls at SIU in the early fall and late spring semesters.  Examples of vegetables grown include potatoes, carrots, onions, tomatoes, peppers, lettuce, spinach, cabbage, bok choy, and broccoli.
Through Green Fund support in 2012, the Sustainable Farm built both high and low polytunnels to extend its growing season into the winter months, providing fresh produce to students when it is normally scarce.  Excess vegetables are sold at local farmer's markets for further income to support the operation.  The farm is led by researcher and former SIU student April Vigardt, and is tended by several student workers from the College of Agriculture.  More information on the Sustainable Farm can be found here!