Earth Month 2019
Main Content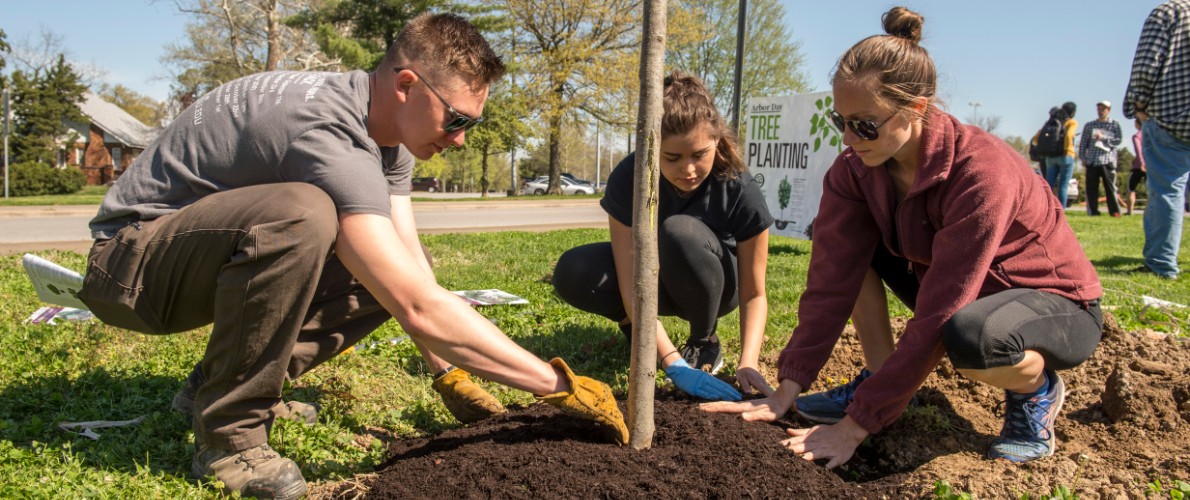 Earth Month 2019
Thank you for checking out our Earth Month 2019 calendar! Scroll down past the flyer for complete event details. Both community and campus groups have contributed to this month of awesome events. Reach out to the respective organizers with questions about specific events. For general questions, email sustainability@siu.edu.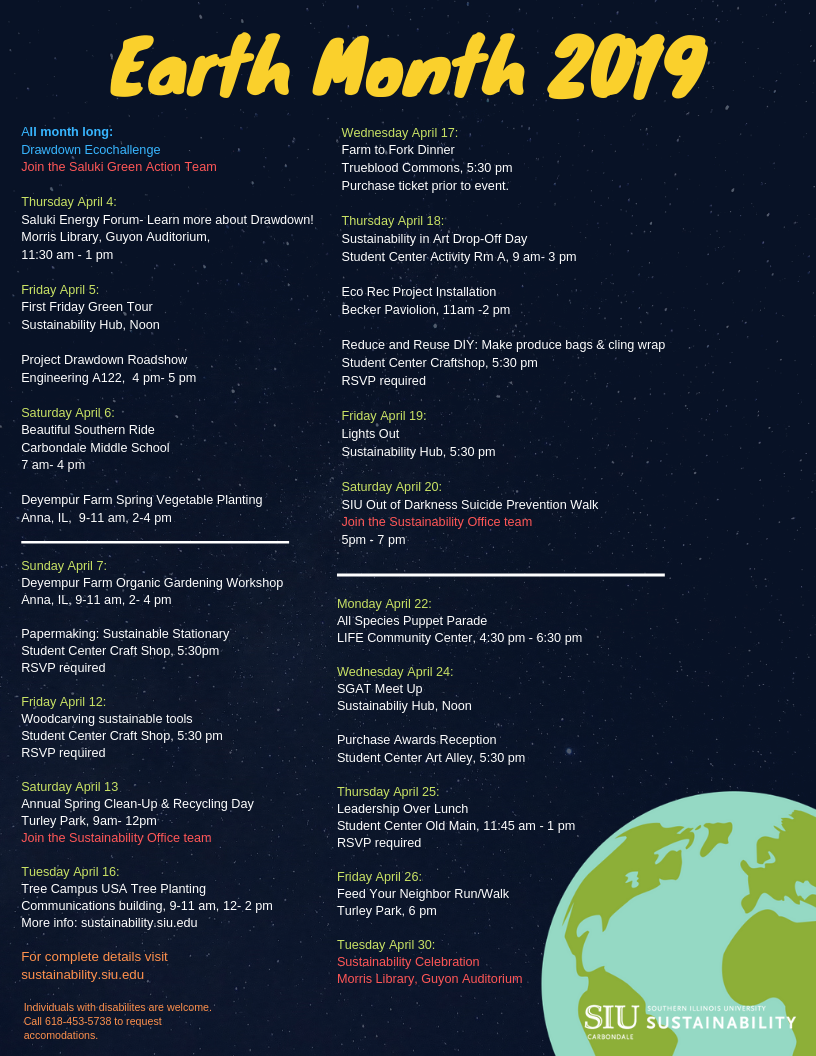 All month long:
Drawdown EcoChallenge
Join the Saluki Green Action Team!
Drawdown EcoChallenge is a 21 day program where participants take action to reduce their carbon footprint. Participants team up to track their progress and share it on an online platform to see how they are ranking in comparison to other teams.
 This EcoChallenge is based off of Project Drawdown which is a book which maps, models, and measures the most effective ways to combat global climate change by the year 2050. The activities in the Drawdown EcoChallenge are based on initiatives seen in the book. For every action, the team is awarded points, the bigger the action, the more points awarded.
Join our Saluki Green Action Team by clicking the link below.
Before joining our team, please note the following reminder regarding SIU employees' ethical obligations:
You are always welcome to contact your elected officials to share your opinions. However, it is important that you comply with board policy. University policy limits the use of university-owned computers and communication networks to purposes related to the discharge of their duties as employees, official business with the University, or other university-sanctioned activities. As such, contact with any elected officials should be on the employee's own time and should not utilize the University's computers or email. Employees, as private citizens, are permitted to contact their elected officials to express their personal views and opinions or request actions by their elected officials.
Join us now! https://drawdown.ecochallenge.org/participants/join?referral_code=9248d7c2-62bf-42cd-9b3b-4452a93caf85&team_invitation=true
Thursday April 5
Project Drawdown Roadshow
Mechanical Engineering Conference Room, Engineering A122, 4pm
Explore the resource Project Drawdown with this interactive workshop presented by the Sustainability Office.
Thursday April 4
Saluki Energy Forum
Morris Library, Guyon Auditorium, 11:30 am – 1pm.
Campus CO2 emissions from heating, cooling, and electricity in buildings are equal to burning 856 rail cars – about nine miles long – of coal per year. How do we fix that and make our campus better now and for future generations? Time to take action and get involved in making the world a better place by starting on campus! Learn how to help reduce campus energy use and about some new programs through the Saluki Energy Focus group.
Speakers include:
Justin Harrell, campus plant and service operations engineer, will tell us about how we use energy on campus, where it comes from, what sort of environmental impact our energy usage has, and what our best options are for reducing our energy usage. 

Geory Kurtzhals, SIU's Director of Sustainability, will talk about how the Project Drawdown resource can be used to enhance energy-related academic offerings and help shape our sustainability planning. 

Amy McMorrow Hunter will briefly discuss Saluki Energy Focus Group programs that are already underway and that need everyone's participation, including Green Office SLEUTHs, Net-Zero Salukis, Saluki Lights Out, and an Energy Research Survey for Faculty.
This event is free and open to the public. Light lunch provided. 
This event is presented by the Saluki Energy Focus Group, whose goal is: To help lead a campus-wide effort to reduce SIU energy use and transition toward maximized renewable energy usage.
https://energy.siu.edu/saluki-energy-focus-group/events/saluki-energy-forum-start-on-campus-20190404.php
Friday April 5
First Friday Green Tour
Sustainability Hub, Noon
See the Green Fee in action! Visit Green Fund sites such as the solar powered picnic table and the green roof on the top of the Agriculture Building.
https://sustainability.siu.edu/participate/green-tour.php
Saturday April 6
Beautiful Southern Ride
Carbondale Middle School, 7 am – 4 pm
http://beautifulsouthernride.com/
This is a bicycle ride through Southern Illinois! Sponsored by the Rotary Club of Carbondale Breakfast, the Beautiful Southern Ride Bicycle is a fundraising event to benefit the philanthropies of the Rotary Club of Carbondale such as Carbondale Boys and Girls Club and also to support the ride. Bicycle riders have the choice between a 30 mile, a 62 mile, and a 75 mile ride. All rides start at the Carbondale Middle School. Registration is from 7-9 am and all races should plan to finish by 4pm. Register online, registration prices vary. 
Saturday April 6
Dayempur Farm Spring Vegetable Planting
Dayempur Farm, 35 Nubbin Ridge Road, Ann, IL 62906
9-11 am, 2-4 pm
April is the month to get your hands and seeds into the Earth of Southern Illinois. Join us for an enriching experience participating in the time honored tradition of spring crop planting! Rain or shine, we will either plant outdoors or in the greenhouses, respectively. Email dayempurfarm@gmail.com or call 618-559-2768
Sunday April 7
Dayempur Farm Organic Gardening Workshop
Dayempur Farm, 35 Nubbin Ridge Road, Ann, IL 62906
9-11am, 2-4pm
Going green starts with how you treat your inner environment. Join us at Dayempur Farm, Center for Sustainable Living, for a hands on workshop on putting together an organic garden. Learn various aspects of growing nutritious and delicious food... from preparing the Earth to planting the seed, from making your own natural fertilizers to composting the wastes. Visit with free-range chickens and tour our chemical free, natural honey bee apiary. Rain or shine, come enjoy the beauty of Southern Illinois! Email dayempurfarm@gmail.com or call 618-559-2768
Thursday April 11
Papermaking: Sustainable Stationary
Student Center Craft Shop, 5:30 pm
Create handmade stationery from start to finish using recycled materials. Session one will focus on prepping materials to create paper pulp, design, and cast sheets of paper using our Hollander Beater. During the second session, we will refine our paper and create envelopes to complete our stationary set. This workshop is presented in collaboration with the SIU Sustainability Office. To sign up, call 618-453-3636 or email craftshp@siu.edu. RSVP required.
Friday April 12
Woodcarving Sustainable Tools
Student Center Craft Shop, 5:30pm
Leave the plastic alone and craft your own wooden cooking utensils. This class perfect for beginners to learn Wood Shop safety. You will gain experience with hand tools and stationary tools including the table saw, band saw and wooden chisels. You will leave this class with a finished spoon and spatula to cook in a stylish and sustainable way! This class is presented in collaboration with the SIU Sustainability Office. Materials are extra.
This class includes a semester pass to the Wood Shop a $35 value! Age 18 and up. The Wood Shop open studio hours are Tuesday - Friday 2 - 6 PM and Saturday 12 - 5 PM.
To sign up, call 618-453-3636 or email craftshp@siu.edu. RSVP required.
Saturday April 13
Annual Spring Cleanup & Recycling Day
Turley Park, Carbondale Il, 9 am – 12 pm
Each year, approximately 200 volunteers commit to a litter cleanup for 3 hours, collecting
3,000 to 6,000 pounds of debris from the community. Contact Keep Carbondale Beautiful at keepcb1326@gmail.com or 618-525-5525. Come as an individual or sign your group up in advance by April 7. Pre-registration is very helpful so that KCB team can make plans in advance.
Sign up your team at: http://www.keepcb.org/spring-cleanup--recycling-day.html
Or join the Sustainability Office team by emailing us at sustainability@siu.edu
Tuesday April 16
Tree Campus USA Tree Planting
Communications Building, 9-11 am, 12-2pm
SIU has been recognized by the Arbor Day Foundation as a Tree Campus USA for four years in a row!  Assist in planting several native trees on campus. Please wear long pants and comfortable work shoes (boots preferred) that you don't mind getting dirty. Bring work gloves if you have them. No experience required - we'll teach you everything you need to know! Hours are eligible for the Environmental Ambassador Award. Sign up beforehand is encouraged. Email sustainability@siu.edu.
Wednesday April 17
Farm to Fork Dinner
Trueblood Commons, 5:30pm
The 2019 Farm to Fork Dinner will take place on Wednesday, Apr. 18 at 5:30 p.m. in Trueblood Commons. Participants will enjoy locally grown food prepared by two chefs from University Housing Culinary & Nutrition Services. We are proud to partner with the SIU Sustainability Office; SIU Department of Animal Science, Food & Nutrition; and SIU Fermentation Science Institute on this event. *** Tickets are on sale now and recommended to purchase in advance. Visit the SIU Housing webpage for the event here: https://housing.siu.edu/dining/f2f 
Thursday April 18
Sustainability in Art Drop-Off Day
Student Center Activity Rm A, 9 am – 3 pm
We'd like to see SUSTAINABILITY reflected in your art! In collaboration with the Student Programming Council and Student Center, SIU Sustainability is offering a sustainability category as part of the annual the spring Purchase Awards.
Student Programming Council Annual Purchase Awards (spring semester)
Art drop-off: Thursday, April 18, 2019, 9 am-3 pm, Student Center Activity Room A

Purchase Awards Reception:  Wednesday, April 24th, 5pm, Student Center Art Alley
In order to participate, students should follow the instructions for submission listed here. Websites will be updated annually, so check back to see if they have been updated for the current year! At submission, there will be an opportunity to note that you are entering the sustainability category. Sustainability submissions will be judged via the established Student Center process AND for the separate, sustainability prize. For more information, visit https://sustainability.siu.edu/participate/for-students/sustainability-in-art.php
Thursday April 18- RESCHEDULED for APRIL 25
Eco-Recreation Installation
Becker Pavilion, Campus Lake
11:30  am – 1 pm
Student teams have been hard at work designing and building solar-powered fountains and pedal-powered pumps that will contribute to a healthier campus lake free from algal growth. Cheer them on from the shoreline as they launch their unique prototypes on Campus Lake.
Rain dates will be the same time for the following week.
Thursday April 18
Reduce and Reuse DIY: Make produce bags & cling wrap
Student Center Craft Shop, 5:30 pm
It is Earth month! Do the planet a favor and replace your plastic with reusable and recycled fabrics. In this workshop, you will create a simple drawstring bag for produce and reusable cling wraps. Materials are included and sponsored by the SIU Sustainability Office.
To sign up, call 618-453-3636 or email craftshp@siu.edu. RSVP required.
Friday April 19
LIGHTS OUT!
Sustainability Hub, 5:30 – 7:00 pm
Join the Saluki Energy Focus Group on our inaugural Lights Out! We will make a plan to turn off all of the lights on campus that aren't being used in an effort to save energy and reduce our campus carbon footprint.
Saturday April 20
SIU Carbondale Out of the Darkness Campus Walk
Student Center, Front entrance, 5 – 7 pm, registration starts at 4:30 pm.
This walk, organized by the Salukis on Your Side campus suicide prevention program in conjunction with the American Foundation for Suicide Prevention, serves to raise awareness of suicide's terrible impact, support survivors who have suffered loss, and raise money for research, education and public policy advocacy. Go to  https://news.siu.edu/2018/04/040518-suicide-prevention-walk.php for more details.
Join the Sustainability Office Team when you fill out the form on the official site!
Monday April 22
Earth Day!
Monday April 22
All Species Puppet Parade
LIFE Community Center, 4:30 pm- 6:30 pm
Join the Beloved Puppetistas for the sixth annual All Species Puppet Parade and Walk for Climate Change Solutions. The Beloved Puppetistas will be artists in residence at CCA and will be hosting workshops throughout March and April. For more information, see https://www.facebook.com/All-Species-Puppet-Parade-Earth-Day-April-22-Carbondale-IL-597383993727663/
Monday April 22
Sustainability Council applications due!
The Sustainability Council at Southern Illinois University Carbondale provides recommendations and advice related to sustainability policies for the SIU campus. The Council is composed of nine members: three students, three faculty, and three staff, who are committed to advancing sustainability efforts on campus. Members apply to serve on the Council where they guide the vision of sustainability for SIU and make decisions regarding Green Fee distribution.
Interested students, faculty, and staff are welcome to attend a Sustainability Council meeting to determine if they would like to apply and can submit an application at any time for future consideration. Applications are currently open for student, faculty, and staff positions to begin during the fall 2019 semester. The deadline to apply is April 22, 2019.
Wednesday April 24
SGAT Meet Up
Sustainability Hub, Noon
Join the Saluki Green Action Team in the Hub to learn more about the connection between human health and the environment. Nosh on a slice of pizza while you're here. Learning at its best.
Purchase Awards Reception
Student Center Art Alley, 5:30 pm
(See above for description)
Thursday April 25
Leadership Over Lunch
Student Center Old Main Room, 11:45 – 1 pm
Leadership Over Lunch is a program hosted by the Office of Student Engagement that covers various topics in leadership and professional development. Students are invited to enjoy a free, catered lunch and meet a local leader. Each session is limited to the first 30 students to register! This session will be lead by Longbranch manager and sustainability advocate, Elaine Ramseyer. The Sustainability Office will be there to ensure waste is properly sorted at the end of the event!
Questions? please call the Office of Student Engagement at 618-453-5714.
To sign up: https://getinvolved.siu.edu/leadership-development/leadership-over-lunch.php
Friday, April 26th - Feed Your Neighbor 5k Fundraiser
Turley Park- Carbondale,  Registration 4 – 5:30pm, Race starts at 6:00pm
The Neighborhood Co-op sponsors an annual "Feed Your Neighbor" 5k fundraiser. The course is certified and professionally timed. All monies raised will be donated to the Good Samaritan House of Carbondale. In addition, they are asking for participants and community members to donate non-perishable goods to be donated to the SIU Food Pantry. There will be music and great raffle prizes. Since 1999, more than 1,700 race participants have been part of this great event- Join us in 2019!
Tuesday April 30
Sustainability Celebration
Morris Library, Guyon Auditorium, TIME TBD
Join the Sustainability Council, the Saluki Green Action team, and the Office of Sustainability for their end of the year celebration. Environmental Ambassador Awards will be given as well as announcements for recipients of the Green Fund grants. Light refreshments provided.
Earth Month 2018 
Earth Day was April 22nd, but we celebrated the entire month of April! Thank you to all who contributed to a great Earth Month!

Below is a complete list of Earth Month activities which were organizied by departments, organizations, and groups both on and off campus (For more details or to be put in contact with the host organizations, you can call 618-453-2846).