Recycling Program
Main Content
Southern Illinois University Carbondale is committed to a robust, campus-wide recycling program to reduce our environmental impact. By creating a culture of sustainability, SIU hopes to foster in our students life-long habits of recycling and sustainability-minded action.
The Sustainability Office has been collaborating with AIGA, a professional student design RSO, to create a bin signage and labeling system to help communicate what is and is not recyclable on campus. The above images are our new informational recycling signs! Bin labels will be coming soon!
Below are the following type of recyclable materials that SIU accepts in all buildings with recycling containers.
Mixed Recycling
The photos below show examples of recycling bins found around campus. Mixed Recycling bins accept:
all forms of un-broken GLASS
>all METAL, such as tin and aluminum cans and foil

Spray paint cans can be put into mixed recycling only if they are completely empty. 

PLASTIC containers that are marked with a

plast

i

c

 recycling number 1-6 within a three-arrow triangle (except Styrofoam).

Plastic grocery bags can also go into mixed recycling containers.
Note to Dining Services team members: Please see this document, which shows food service plastics that can and cannot be recycled through our program.
Paper Recycling
SIU paper recycling containers collect all types of paper recycling, including:
white paper
colored paper
newspaper
glossy paper, such as magazines
phone books
thin cardboard, such as cereal boxes
In summary, mixed paper bins accept any paper EXCEPT thin cardboard with wax (i.e. fruit and vegetable boxes).
All paper should be clean paper. If paper has been contaminated with liquid or grease, it cannot be recycled and should be put into a landfill (trash) bin.
Some locations on campus collect only shredded paper or only white paper. Shredded paper and white paper should be bagged and have NO more than 2-3% of any other paper.
Cardboard
Corrugated Cardboard can be recycled within buildings by:
breaking down the boxes till they are flat
labeling them with a note or marker with the word "recycle"
placing the flattened boxes next to the paper recycling
We can even recycle pizza boxes! Please remove all inserts and food. It is okay if there's some grease in the boxes.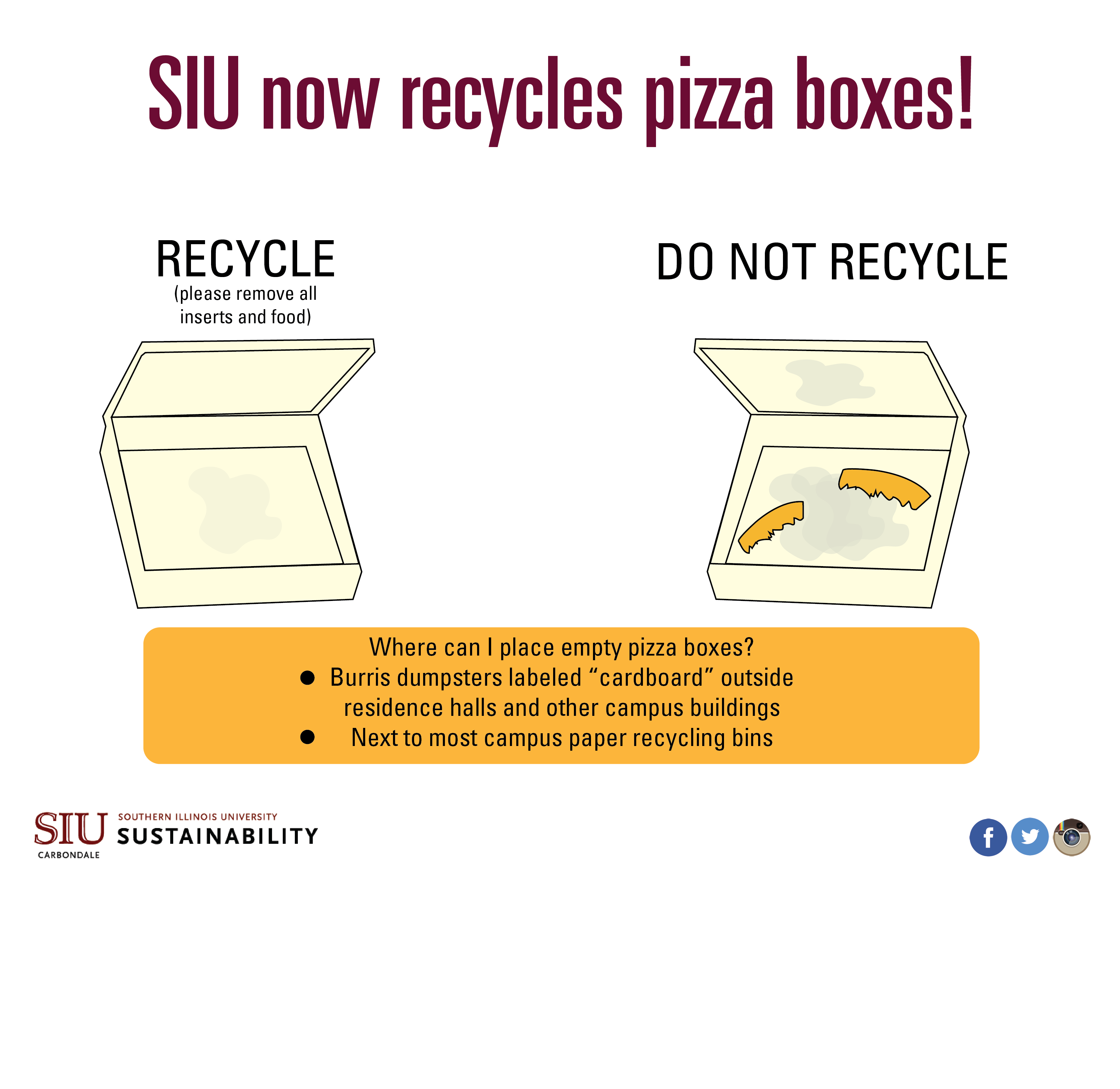 Ink/Toner Cartridge Recycling
The Sustainability Office manages a recycling process for all used/empty ink and toner cartridges. More information can be found here. 

The Sustainability Office also will continue to manage the sharing process for FULL/UNUSED ink/toner cartridges. The process description and inventory list can be found here. 
Electronics
It is mandated by the State of Illinois that electronic waste (e-waste) must be diverted from being sent to the landfill.
All electronic waste, except for ink/toner cartridges (process described above), should be sent to Surplus Property.
Toothbrushes and Miscellaneous Dental Hygiene Materials
Currently, the SIU Dental Hygiene Clinic is collecting dental materials for recycling for a program through Colgate. Bring materials to their office on the ground floor of the College of Applied Sciences and put them in the boxes by reception. Recyclable materials include:
toothbrushes
toothpaste tubes and caps
toothbrush and toothpaste packaging
floss containers
Other Resources
Dining Services support document, which shows food service plastics that can and cannot be recycled through our program.
PSO Building Services training document.