Give and Go!
Main Content
Congratulations! During May 2016 Give and Go!, SIU students donated the following to community organizations, also diverting these items from the landfill!
9696 pounds of clothing, furniture, appliances, shoes, bedding, towels, kitchen wares, and more
1452 usable food items
Donation locations were available on campus for students living in our residence halls. Gaia House served as a location for off-campus students to donate their items.
Thank you to all students, staff, community members, and faculty who supported this program! If you have questions or concerns about Give and Go!, or you have suggestions for improvement for next year, please contact us at sustainability@siu.edu.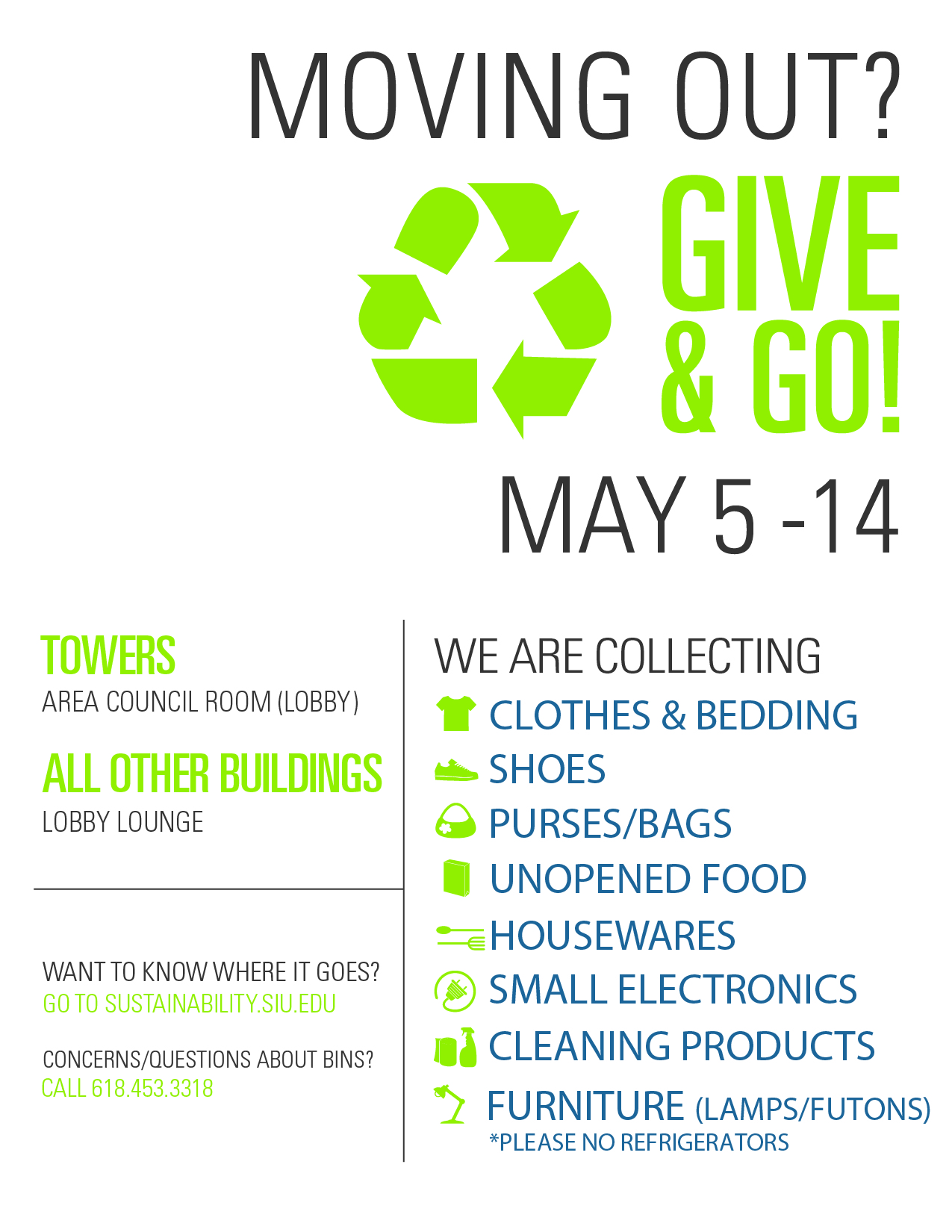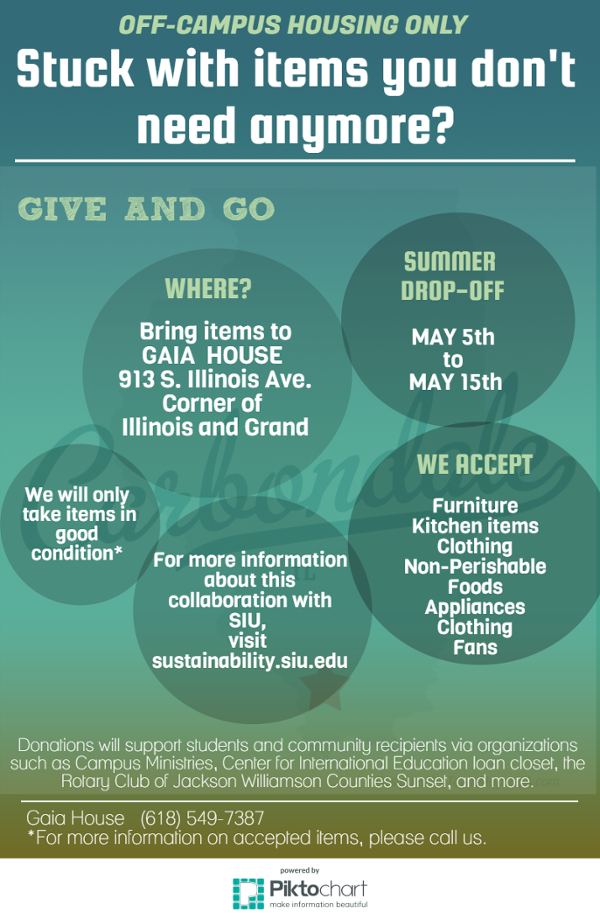 Campus Ministries and the Rotary Club of Jackson Williamson Counties Sunset were key community partners in our 2016 collaboration.
Campus Ministries - Representatives from Campus Ministries helped to collect items that were distributed to the Wesley Food Pantry and the Carbondale Thrift Shop.
Rotary Club of Jackson Williamson Counties Sunset - Representatives from the Rotary helped to collect household items that were directed toward the organization's Rotation Resale event. More info can be found in this video: https://www.youtube.com/watch?v=ebIJyyD5FZ0. The following organizations benefitted from the Rotary's work in 2016: This Able Veteran, Feed My Sheep Community Kitchen, The Boys and Girls Club, The Women's Center, Good Samaritan Ministries, Giant City Stables Equine Therapy, Gum Drops, Herrin House of Hope, Lighthouse Shelter, The Nights Shield, The Murphysboro Food Pantry, Saint Francis Animal Shelter, Carbondale Towers, Department of Children & Family Services – Back Pack, Vergennes/Elkville Tornado Food for Volunteers.
---
As the semester wraps up, it's time to think about closing!
As part of a collaboration between SIU Housing, Carbondale community organizations, S.E.N.S.E. registered student organization, the Gaia House, and the Sustainability Office, SIU will again be offering a process to donate gently used items at move-out for Spring 2016.
Donation stations will be set up  between May 5th and May 15th inside residence areas within Housing (West Campus, East Campus, Wall and Grand, and University Hall) and at Gaia House (for donations from students who live off-campus). At these locations, students can drop off donations such as nonperishable food items, clothing (including shoes), small appliances, fans, and bedding. If a designated donation space needs attention during this time period, please contact the Truebood Office at 618-453-3318.
For more questions about sustainability, please contact the Sustainability Office at 618/453.2846 or email sustainability@siu.edu.
Donations will support students and community recipients via organizations such as Campus Ministries (Wesley Foundation Food Bank, the Carbondale Thrift Shop), Center for International Education loan closet, the Rotary Club of Carbondale, and more.