Imagining Geographies
Main Content
Imagining Geographies was a College of Mass Communication and Media Arts-led, university- & region-wide interdisciplinary initiative with two primary missions: the first of which is to advance investigations, knowledge creation and mobilization, discussion, and multiple forms of expression by faculty, staff, and students across SIU related to space, place, culture, and identity. The second is to share these efforts with the SIU community and residents of Southern Illinois.
Imagining Geographies began in spring 2012 with the Antarctica – Imagined Geographies Initiative.   This became the Imagining Geographies in spring 2013, along with a shift in focus to the present project - Land, Lives, and Arts of Southern Illinois.  Dr. Peter Lemish and his students have taken on this creative and exciting initiative.
Check out Imagining Geographies' blog, on the web, and on Facebook!  You can check out the latest edition of the IG Sharing Knowledge publication here!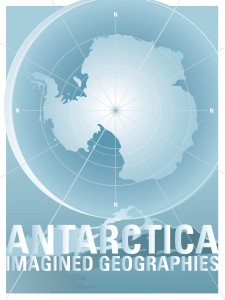 A multidisciplinary collaboration took place at SIU Carbondale and throughout the region – the Antarctica: Imagined Geographies Initiative [AIGI] – from March – May 2012.  Nearly 1000 persons participated in 30 events during the six weeks of the project, and thousands more enjoyed the colorful brochure, publicity, and newspaper reports.
The centerpiece and inspiration for AIGI was the Antarctica photographic-sound installation of Gary Kolb and Jay Needham displayed in the Morris Library rotunda on the SIU Carbondale campus.   Radiating out, symbolically, from this space were the 22 on- and off-campus events (Carbondale, Marion, & Harrisburg), and another eight meetings with special audiences (children, various grad students groups, GLBT community). These events enabled members of the SIU community and greater Southern Illinois region to meet artists, authors, composers, filmmakers and photographers who shared their music, films, fiction, and non-fiction created in Antarctica; learn about polar research of climatologists, biologists, geologists, and geographers – much of which was related to climate change issues; consider the precedent of shared global Antarctica governance as a model for governing the world and outer space.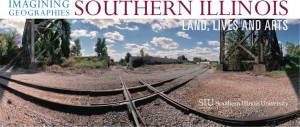 After the first year, focus shifted to explore a wide range of aspects of environmental issues in Southern Illinois.  IG published and distributed 30,000 copies on-campus and throughout the region of a 16-page, commercial-free, newspaper-type of publication dedicated to the theme. The aim of this new initiative was to share knowledge and arts expressions produced by faculty, staff, and students with SIU and regional communities.
Several projects were developed, including:
 Partnering with 18 SIU units and community groups, including the SIU Sustainability Council and Carbondale Sustainability Commission, IG's first event launched the imaginative Greening Carbondale initiative with discussion of the proposal – Greening Carbondale via a Food Forest.
The Rural Civil Rights Project of IG's Voices of Southern Illinois Initiative was initiated with a community discussion of a violent incident resolved through use of non-violence, documented in 778 Bullets, by filmmaker-scholar Angela Aguayo.
IG partnered with the Office of the Vice-Chancellor for Research and the Center for Ecology to host the first Community of Scholars meeting, devoted to discussion of ways SIU is advancing interdisciplinary research.
Once again, an exhibit in Morris Library rotunda served as the IG centerpiece – a collection of maps of Southern Illinois curated by Sarah Lewison. This exhibit was accompanied by a meditative video installation consisting of 20, five-minute films of rural life in Southern Illinois created by William Rowley.
Plans for IG's third year are focusing on the university-wide theme of sustainability and water, while solidifying work with other initiatives, including:
Sustainability and Environmental Science, Policy, and Communication Series is designed to enable the university to expand understanding in the ways scholars can contribute their knowledge to public discussion of policies critical to developing life in our region.
The Rural Life Initiative will advance the Rural Civil Rights Project along with the Subject Speak project in Alexander County and the project to develop the creative and cultural industries of Union County.
The Eco-Study Initiative seeks to develop a unique model of experiencing and learning about our unique and rich surroundings via interdisciplinary teams, who will assist participants experience the complexities of the Cache and Crab Orchard environs.  
The Civic Communication Collective [CCC] is a student-founded and led group established in fall 2012, supported by a generous grant by the Sustainability Council.  The CCC has two purposes: First, to provide full media services to SIU units, RSOs, and community groups; second, to enable students to gain experience in managing a wide-range of media efforts as well as producing media materials.
Imagining Geographies has been the CCC's primary 'client' as student-members produced and wrote many of the articles that appeared in Imagining Geographies first publication; designed and managed the Imagining Geographies website;  designed, managed, and distributed IG's now iconic brochure; managed publicity including tens of articles, press releases and ads announcing/reporting on CCC events;  recorded through photographs and video recordings events; wrote blogs about  events; and managed IG's social media operations.
CCC's activities in Fall 2013 include:  planning, designing, and editing the Greening Carbondale web portal; preparing publicity for and a map of studios to be open during Colorfest weekend, commissioned by River to River Visual Arts Association of Union County;   producing and writing several articles for Nonviolent Carbondale's first publication – Carbondale's Emerging Culture of Peace; producing the University College – Imagining Geographies civic communication publication – Waters of Southern Illinois: Past, Present and Future;  and, planning production of a second IG publication to be published in Spring 2014.